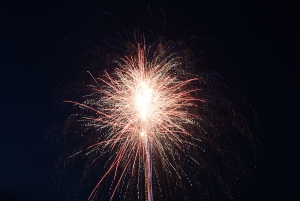 Businesses and property managers are using security guards to protect their locations against fires caused by illegal fireworks as the July 4 holiday approaches, says Access Patrol Services (APS), a security guard company serving California and Arizona.
According to the National Fire Protection Association, an estimated 19,500 fires were caused by fireworks in 2018 with $105 million in property damage. The organization found half the fires reported on July 4 were the result of fireworks.
"The amount of illegal fireworks may be even higher this year because so many community firework shows have been cancelled," says Fahim Abid, APS security director. "These fireworks can reach temperatures of up to 2,000 degrees. They are launched into the sky with little regard of where they'll land. Unfortunately, many come down on rooftops or in vegetation that can lead to structure fires."
APS is noticing an increase in calls from business owners who are worried that illegal fireworks may start fires on their property. It is not just business owners who are worried. Security guards are being assigned to patrol retail centers, gated communities, schools and other locations. We will be active on 4th july firework for security guard in california
"Every July 4, the night sky is lit up by fireworks," says Abid. "Police can't respond to every call about someone setting off illegal fireworks. If our guards spot a fire, they call the fire department immediately. If the fire is small, they are trained and have the proper equipment to extinguish the flames before they can grow."
Contact Access Patrol Services at 866-770-0004 with questions about security guard fire protection duties and responsibilities or click on https://accesspatrolservice.com.
About Access Patrol Services
Whether security is needed at an event, retail outlet, warehouse, commercial office building, medical facility or any number of other locations, Access Patrol Services uniformed security guards are on the job to keep people and places safe, to spot and respond to inappropriate behavior and provide assistance in case of emergency. Serving clients in California and Arizona, Access Patrol Services staff works with clients to analyze a location's security issues. Staff then develops a custom plan to fit the client's security needs. Our uniformed security guards are trained and licensed to deter crime, diffuse volatile situations, take the lead during emergencies, conduct security screenings, enforce rules and control access. 866-770-0004  https://www.accesspatrolservice.com