Our Philosophy
We view security as crucial to combat the negative elements in today's unsettled world. Protection of individuals and property is what we're all about. Our management has over 50 years of combined security experience. Many of our guards have been in the field for 10 years or more, a testament to their commitment to their work. Our clients always come first and we'll do everything in our power to ensure your security needs are met.
Our Approach
Every security situation is unique. At Access Patrol Services, we follow specific steps when proposing measures to address your security needs.
Listen and Observe – We listen to your security concerns, learning about the security issues you are facing. We walk your site, looking for security lapses.

Develop A Plan – Whether you need security for a one-time event or an ongoing patrol service, we develop a security plan that fits the circumstance. The plan provides an analysis of your current security measures, our recommendations for security guard duties and their placement, electronic surveillance (if necessary), hours of service and recommendations for interaction with your staff and the public.

Propose a Budget – Along with the security plan, we present a budget based on the level of recommended service. All costs are spelled out so there is full transparency. You'll find our prices fair and honest.
Our Security Guards
Our security guards at are fully licensed by the California Bureau of Security & Investigative Services for California guards or the Arizona Department of Public Safety for Arizona guards. Guard applicants must undertake an FBI fingerprint-based criminal background check. Access Patrol Services requires passage of additional, extensive screening that includes:
Employment Background Check
Potential guards must go through additional evaluations by Access Patrol Services and then successfully complete a rigorous orientation, 40 hours of training and pass continuing education courses. Guards are evaluated for specific jobs so we match the appropriate security guard to each specific assignment.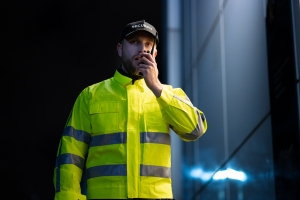 Our Goal
Our goal is to provide security guard personnel who are the perfect match for each security assignment.
Security Guard Services Throughout California and Arizona.