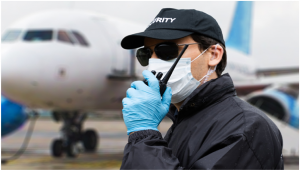 Airports are busy spaces that require extensive security protection. Drug trafficking, smuggling, exporting arms and ammunition illegally are some of the crimes that can transpire in airports without the presence of proper security service. These crimes can severely threaten the safety of civilians. Therefore, if you are someone looking to escalate airport security services then contact Access Patrol Services (APS) for the same.
APS is the most trusted and professional security guard company in Ontario & Upland, CA that provides high-end and accurate security solutions by blending advanced security techniques and modern security gadgets.  For every sector, we have a dedicated team and thus even for airports, we have a specialized team of airport security guards. They all are BSIS certified and highly trained and experienced security guards.  APS conducts regular training session for their guard which includes power drills, rapid decision-making skills, intellect development skills, threat detection and prevention programs, first responder awareness program, crowd control management and many more. Therefore, our airport security guards are highly professional, vigilant and robust to take instant action during times of emergency.
Most importantly, since we carry more than 26 years of experience in the security service domain, we hold an extensive amount of exposure to render expert security solutions to any type of premise.  Therefore, to provide absolute security cover to the airport, our specialists conduct a thorough analysis of the assigned airport to craft a comprehensive security plan.  And, we allocate a sufficient number of security guards to the airport.  We also make sure that there is a correct mix of armed, unarmed, mobile and static security guards stationed at the airport to ensure complete protection.
Plus, our guards incessantly patrol the airport premises to maintain the decorum of the place. The moment anything suspicious or fishy is observed by our guards, they take instant steps to investigate and take an instant action to deter criminal activities from occurring.
Also, APS understands the significance of technology in the security service domain. And thus, to provide errorless security service, various state-of-the-art equipment such as GPS monitoring systems, CCTV cameras, mobile devices, radio transmitters, metal detectors, scanning machines, infrared thermometers, automatic sanitizers, etc., are provided to our airport security guards for seamless security service delivery.
Therefore, if you are searching for a highly professional security guard company in Ontario & Upland, CA for getting airport security services then, get in touch with us ASAP.
Contact Access Patrol Services at 866-770-0004 with questions about security guard duties, responsibilities and functions for commercial office properties in California and Arizona or click on https://accesspatrolservice.com