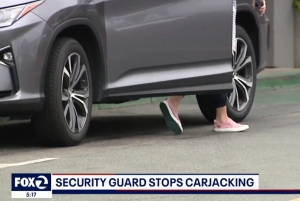 A San Rafael, California bank security guard is a hero after stopping a carjacking in a shopping center. The guard subdued the carjacker, placed him in handcuffs and alerted police. Because of the security guard's quick thinking, a criminal is now behind bars.
Training Is Critical. Most of the day-to-day duties of security guards are to observe and patrol areas for suspicious activity. On occasion, they are required to act to prevent a crime from taking place. That's when their training to quickly assess a situation and respond appropriately comes into play.
Criminals are becoming so bold that they are attempting violent attacks during daylight hours. The attempted carjacking took place at 4:45 p.m. That's why retail stores and shopping malls should have security guards stationed in parking lots and garages to protect shoppers and employees.
Access Patrol Services is a bonded and experienced security guard company that provides store and shopping mall security in California and Arizona—security guards and 24/7 video surveillance.  All security guards are licensed and can be armed or unarmed.
For more information about store and shopping mall security services, call Access Patrol Services at 866-770-0004 or click on https://accesspatrolservice.com.