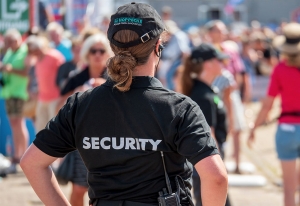 Rising crime rates drives the demand for more security services
If you have relentless doubt whether to install security services at your place or not, then you must have overlooked the significance of security services. Employing Security guards serves as a deterrent to crimes that may occur at your premises. Crimes like theft, burglary, vandalism of property, larceny, arson, physical violence, murder are a constant threat these days. According to a recent survey, it was reported that the violent crime rates is 382.9 per 100,000 inhabitants in the U.S. In fact, COVID-19 impact has also fuelled the crime rates due to the sudden increase in rate of unemployment. Moreover, due to the initiation of complete lockdown, places like business houses, financial institutions, shopping malls etc. are mostly vacant. These vacant places are also harbouring theft and burglary. Therefore, it is high time to hire professional security guards to ensure that your house, organisation or any other important place get complete protection from impending dangers.
Access Patrol Services (APS) is a leading security guard company in Tarzana that provides professional security services and ensures customers are provided only with high quality security services. With our highly qualified and trained security guards you can be rest assured that your space is fully protected. The guards are proficiently trained, BSIS certified and also available round the clock to guarantee unparalleled services are delivered to its customer.
The only reason we have been able to stay in the top for 50 years, is because of our immense commitment towards our duty to provide complete protection. We provide a wide range of services right from fire management service, residential services to commercial and industrial security services. These services are piloted with uniformed, armed and unarmed security guards who are not only efficient but also technologically sound.
Technology is also an integral aspect of our services, we use an array of latest gadgets to enhance our service quality. The usage of GPS monitoring system, alarms, scanning machines, metal detector, infra-red thermometer, access control device etc., ensures there is no room for errors.
Moreover, APS guards provide mobile security patrol services to locations like parking lots, schools and campuses, event sites, gated communities and business or any other location you wish for patrol services. Constant movements of armed and unarmed security guards are tracked down through GPS to ensure the guards are alert and vigilant.
Another important aspect of our service is, we provide personalised services. All the requirements of customers are carefully handled and implemented to ensure they feel safe and secure. We also provide full liberty to customers to make any modification in a running agreement. So, if a customer wants a fully customized service even in a middle of an agreement they can get it in the most preferred way at any moment.
Therefore, APS is undoubtedly one of the best security guard company in Tarzana with 90 percent success rate. So if you want to experience the highest quality service then you must rely on APS because keeping your tensions at bay is our responsibility.
Source:
https://en.wikipedia.org/wiki/Crime_in_the_United_States#:~:text=In%202018%2C%20the%20US%20murder,a%20total%20of%2015%2C498%20murders.&text=In%20the%20United%20States%2C%20the%20number%20of%20homicides%20where%20the,experienced%20in%20the%20early%201990s.
Contact Access Patrol Services at 866-770-0004 with questions about security guard duties, responsibilities and functions for commercial office properties in California and Arizona or click on https://accesspatrolservice.com.