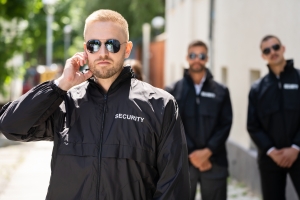 According to a recent survey COVID -19 cases have declined massively and now gradually situations are also getting normalized. But, on the other hand it has also been observed that, with the decrease of COVID -19 cases, crime rate has increased drastically. As a result, demand for professional security guards is on rise. So, if you are consideringhiring security services then it is recommendable to employ only professional security guard company like Access Patrol Service (APS) which can ensure robust protection.
We, APS are a leading security guard company in Apple Valley & Victorville, CA that provides only BSIS certified security guards who are efficient to cater absolute protection to you and your family. Our company is one of the vintage companies in California with around 25 years of experience. And, owing to this experience we are capable of meeting your every security need. We can proudly claim that our service quality is the best in the market and employing our service won't disappoint you at all.
The fact is we are highly conscious about customer satisfaction and so we try to meet every security need of the customer. Therefore, we provide customized service facility to each and every customer so that they can add or choose security specification according to their need.
The most crucial factor of our organization is we train both our unarmed and armed security guards company in Apple Valley & Victorville, CA regularly to enhance their existing physical and mental capabilities. Moreover, we also provide wide knowledge to our guards regarding various critical security aspects. These training sessions help APS guards to remain active, efficient, vigilant and professional all the time. Even, our guards are sufficiently trained to sense impending danger instantly and thus they can act immediately to diffuse the situation or danger.
Moreover, technology plays a crucial part in our organization, so various latest gadgets are used while rendering security service to our client. For instance – RFID tags, CCTV cameras, GPS monitoring system, biometric access control system, radio transmitters, metal detector, scanning machines, flashlights, cloud software, mobile devices, infra-red thermometer, automatic sanitizers are significantly used by both our unarmed and armed security guards.
Besides, to provide extra protection to the client our guards provide round the clock service facility. In addition to that, foot patrol and vehicle patrol service is also offered to ensure total safety of the client.
Therefore, if you are thinking of appointing professional security service, then APS is the finest security guard company in Apple Valley & Victorville, CA, on which you can blindly trust.
Contact Access Patrol Services at 866-770-0004 with questions about security guard duties, responsibilities and functions for commercial office properties in California and Arizona or click on https://accesspatrolservice.com