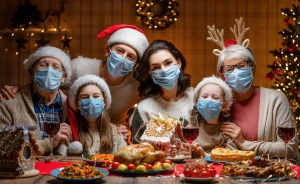 Christmas bells are ringing and the New Year is knocking at the door. With the festive season around us, social get together are invariably going to take place.  The problem is most of the people aren't too mindful about their safety and security during festive seasons which can be perilous. Hence, if you are arranging a party in this Christmas or New Year, then it is advisable to hire professional security guards for ensuring complete safety at your place.
Access patrol Service (APS) is a renowned security guard company in Villa park & Placentia, CA, which provides robust and efficient security guards who can ensure total protection from any impending or uncertain threats. APS has been in the security service field for more than 50 years and thus has high proficiency to cater absolute security protection to any place or people. All the guards of our organization are BSIS certified and are highly trained. So, no uncertified guards are deployed on the site. Besides, before deploying the guards to the client site, efficiency and aptitude of every guard are checked so that only skilled guards are positioned on the client site for rendering absolute security service.
Besides, our guards have the potential to identify impending danger. The guards are well aware that, during occasion like Christmas and New Year, crime rate surges to a great extent as convicts mostly look out for occasions to carry out crimes smoothly. Thus, our trained guards provide a double layer of security protection to the client by remaining extra vigilant and careful during any festive occasions. Also, APS ensures that a right mix of unarmed and armed security guards in Villa park & Placentia, CA are provided to the client.
Moreover, our organization is highly tech driven and thus various and latest technologies are used for rendering flawless security service. For instance – RFID tags, CCTV cameras, GPS monitoring system, radio transmitters, metal detector, scanning machines, infra-red thermometer, automatic sanitizers etc. are some of the gadgets applied by the APS guards for providing absolute protection.
Besides, APS offers 24 hour non-stop service facility. Therefore, a customer can seek APS security service at any time of the day. Also, continuous foot patrol and vehicle patrol service is catered to diffuse suspicious activities which may pose threat to the safety of the client.
Furthermore, since APS values its customer to a great extent, personalized security service facility is also offered. This facility is given to the customer so that they can formulate or structure security plan according to their suitability. For instance – if a client wants more of armed security guards instead of unarmed guards or more of vehicle patrol service instead of foot patrol, then the requested plan will be executed without dragging the client into any complex formalities.
Therefore, if you are searching for resilient security guard company in Villa park & Placentia, CA in this Christmas, then do contact APS for the same.
Contact Access Patrol Services at 866-770-0004 with questions about security guard duties, responsibilities and functions for commercial office properties in California and Arizona or click on https://accesspatrolservice.com