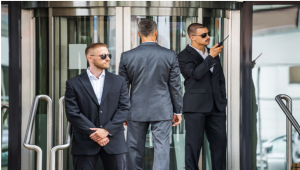 There are myriad reasons why security guards are crucial for banks. Banks are one of the most key areas that are specifically targeted for robberies, larceny, thefts etc.  The reason is, an endless number of high-value and financial transactions take place in banks on a daily basis. Besides, banks deal with various types of customers which include good as well as irate ones.  At times it becomes difficult for banking staff to deal with irate/violent customers and thus security guards are extremely necessary to take charge of such situations. Besides, to maintain the decorum of the bank premise it is essential to enforce the rules and regulations to every visitor or customer.
It is important for bank security management to understand that simply installing a few advanced security gadgets such as CCTV cameras and alarms isn't adequate to provide full-fledged protection.   The presence of skilled security guards is equally important to keep a watchful eye on the activities inside the bank to abate uncertain threats from occurring. So, if you are someone looking for escalating banking security services, then look no further.
Access Patrol Services (APS) is a well-known professional security guard company in Brea & La Habra, CA that provides unparalleled professional protection across all industries including banks.  The company has an overall experience of 26 years in the security business and thus is exposed to various types of critical security needs that can arise in different sectors.  APS crafts robust security strategies based on the assigned premise to ensure complete protection. The security plan is formulated only after understanding all the vital or critical areas of the premise and by carrying out a risk assessment procedure.
Most importantly, the company has a dedicated team of banking security guards who are trained to provide top-class security protection to banks. The guards deployed to banks by APS are all BSIS certified and experienced.  So, you can be sure that no uncertified security guards will be provided to you.
Moreover, APS believes in blending advanced security technologies to provide flawless security services.  The guards are provided with many state-of-the-art equipments such as CCTV cameras, GPS monitoring systems, radio transmitters, scanning machines, metal detectors, alarms and many more.
Therefore, if you are searching for a well-known professional security guard company in Brea & La Habra, CA for banking security services, then get in touch with APS for the same. 100 % professional security service will be delivered to you at a reasonable rate.
Contact Access Patrol Services at 866-770-0004 with questions about security guard duties, responsibilities and functions for commercial office properties in California and Arizona or click on https://accesspatrolservice.com