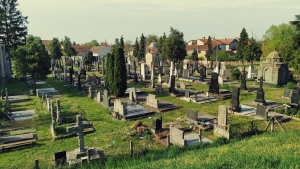 Lack of proper security surveillance on cemeteries is probably one of the primary reasons why these places are so frequently targeted by convicts to carry out crimes. Gradually, cemeteries are now turning into breeding locale for convicts also because these places stay mostly deserted. Therefore, cemetery authorities should organize and arrange for resilient security services to protect these premises from thefts and vandalism.
We, Access Patrol Services (APS) is the most trusted security service provider in Las Flores & Mission Viejo, CA that renders superior protection to high-risk areas like cemeteries. APS has dedicated security professionals who are specialized in rendering security services to cemeteries.  Needless to mention, we only hire BSIS certified security guards in our organization and so no uncertified guards are provided to any site. So, our security guards are exceedingly robust security professionals who can ensure total safety and security to all sorts of premises.
We understand that every cemetery layout is dissimilar and so the risk percentage of each cemetery will vary. Therefore, for cemetery security, our security expert first scrutinizes the assigned cemetery area, marks the critical points and then only formulates a robust security model for the assigned site.  Carrying out this process is mandatory in our organization to ensure the deliverance of a high-quality security service facility to the assigned premise.  Honestly, our guards are positioned in a very careful manner to cover the entire perimeter of the cemetery under our security surveillance purview.
The fact is we have been in the security service industry for more than 25 years and thus have the ability to detect accurate security needs of any premise.  Most importantly, to keep our guards highly active, we conduct regular training sessions for them. The training sessions usually include power drills, intellect development programs, rapid decision-making programs, etc. Therefore, the guards are exceptionally skilled to detect looming danger and taking swift decisions in times of need.
Apart from efficient guards, APS implements advanced technologies such as CCTV cameras; GPS monitoring systems, radio transmitters, mobile devices, flashlights, and many more to render robust security protection to cemeteries.
Besides, we also offer personalized service facilities to cemetery authorities so that they can opt for any security specifications as per their needs and preferences.  Also, a 24-hour security service facility is also available in APS.
Therefore, if you are looking for a highly professional and most trusted security service provider in Las Flores & Mission Viejo, CA for cemetery security, then get in touch with us ASAP. We guaranteed 100% deliverance of highly professional security service.
Contact Access Patrol Services at 866-770-0004 with questions about security guard duties, responsibilities and functions for commercial office properties in California and Arizona or click on https://accesspatrolservice.com