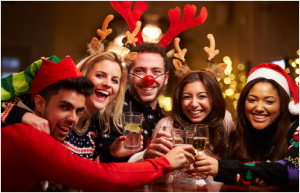 Christmas bells are ringing and it's time to brace ourselves for celebrations!  But, amid all the excitement and festivity, safety and security should not be taken for granted. Many reports suggested that during this period crime rates spikes hastily as convicts take the opportunity of the festive mood of the community. Hence, especially during Christmas, it is crucial not to ignore security protection at any cost.
Access Patrol Services (APS) profoundly understand the threats people usually witness during the span of Christmas and New Year and hence render security protection accordingly.  The company has a special team of security protectors who are BSIS certified.  The guards ensure that client's event/occasion is not hampered at any cost by uncertain threats. They keep a vigilant eye on activities of the event and ensure no unauthorized individuals slips into the client's party. Honestly, APS has been in this field of security domain for more than 25 years and hence has been the most trusted security service provider in Lake Elsinore & Canyon Lake, CA for all kinds of events and parties.  Therefore, if you are searching for highly professional security protection, you can definitely pick the service of APS for your upcoming event or for New Year or Christmas party security.
APS believes that to render services accurately, it is of utmost essential to analyze the assigned premise beforehand.  Therefore, when you appoint APS's service, their security experts checks the event areas, mark the critical points and then structure a solid security model.  This process helps the security supervisor of APS to address all the security needs of the spot. Also, before providing the services, the security experts understand the security requirement of the client and then only proceed with the services.  Hence, the service of APS is often perfect and accurate.
APS also recognize that persistent training is needed even if the guards are skilled to retain their skills. Hence, on a frequent basis, the guards of APS are provided training on several aspects such as crowd control management, rapid decision-making programs, intellectual development programs and many more. For this reason, APS's guards are highly efficient to detect looming danger and can act rapidly to defuse the threat from occurring.
Moreover, APS is a highly tech-driven firm and so their guards use various latest technologies such as CCTV cameras, RFID tags, radio transmitters, GPS monitoring systems, metal detectors, scanning machines, infra-red thermometer, automatic sanitizers etc. for providing seamless security service delivery to client.
Therefore, if you are searching for the most trusted security service provider in Lake Elsinore & Canyon Lake, CA for any occasion or New Year or Christmas party security then do contact us for the same.
Contact Access Patrol Services at 866-770-0004 with questions about security guard duties, responsibilities and functions for commercial office properties in California and Arizona or click on https://accesspatrolservice.com