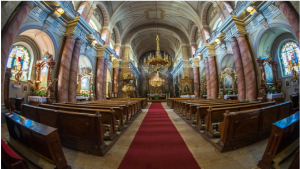 There has been an increase in the crime rate over the last few years in public places.  And, unfortunately, places of worship are also being targeted for acts of violence. Starting from larceny to murders, churches are facing it all.  Therefore, at present, it is essential to amplify church security to establish a safer ambiance for the visitors.
A professional security guard company in Detroit, MI that you can trust for absolute church security is Access Patrol Services (APS). We, APS have been in the security service field for more than 26 years. And, due to such extensive exposure, we are capable of addressing every critical security need of churches.
We design a comprehensive security model based on the assigned church premise. The model presents the critical areas that need to be taken care of and the number of guards required to allocate to the church for absolute security cover. Apart from this, we only deploy experienced and BSIS-certified guards to the church. Also, to keep them highly efficient and professional, frequent training sessions are conducted on a routine basis. The training sessions comprise rapid decision-making programs, intellectual development programs, crowd control management, power drills, first responder awareness programs, and many more. Therefore, the guards of APS are highly skilled to prevent dangers from occurring on the church premises. They strictly enforce the church guidelines to maintain the decorum of the assigned church. Besides, they keep an eye out on every visitor to eradicate wary activities.  The fact is since the guards are trained so efficiently they have the proficiency to detect uncertain dangers and thus can act quickly to deter the same.
Plus, 24 -hour security service facility is also offered to protect the church even after the closing hours. The most striking feature of APS is, that it applies hi-end technologies such as RFID tags, CCTV cameras, mobile devices, GPS monitoring systems, radio transmitters, metal detectors, scanning machines, flashlights, cloud software, and many others to provide errorless security service.  Also, we offer personalization security facilities to church security management so that they can add security specifications as per their needs and preferences.
Therefore, if you are searching for a trustworthy security guard company in Detroit, MI then, contact APS for the same.  100% guaranteed professional service will be provided to you at an affordable rate.
Contact Access Patrol Services at 866-770-0004 with questions about security guard duties, responsibilities and functions for commercial office properties in California and Arizona or click on https://accesspatrolservice.com