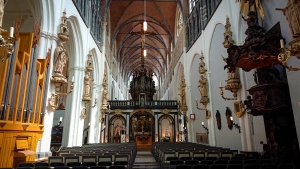 Houses of worship are open to the community, ready to help those in need. Unfortunately, many churches, synagogues, mosques and temples have been the target of violence and vandalism. Their sense of security has been shattered.
In today's world, houses of worship need to take serious security measures to ensure that congregations and property remain secure.  In most cases, these measures include security guards deployed inside and outside facilities for proper protection.Not all security guard companies have experience protecting houses of worship. When selecting a church security guard company in Mira Monte and Ojai, ask whether the company has experience protecting worship facilities. You'll want to make sure all guards are licensed and have gone through thorough background checks. Licensed guards are figure printed and vetted by government agencies for any criminal activity.
Access Patrol Services (APS) has more than 25 years of security experience and is one of the top security guard companies in Ojai & Meiners Oaks, CA. APS hires only BSIS certified security guards.APS understands that houses of worship have unique security issues so it deploys only guards experienced in protecting religious sites. They are specially trained to offer services that are sensitive to congregations and their needs.
APS works with staff to formulate a detailed security plan, positioning guards strategically during public gatherings and off hours.  APS uses the latest technologies such as 24/7 security cameras and GPS monitoring systems.
As one of the finest security guard companies in Ojai & Meiners Oaks, CA APS provides the kind of security protection that many houses of worship require in today's unsettled world.
Contact Access Patrol Services at 866-770-0004 with questions about security guard duties, responsibilities and functions for churches, synagogues, mosques and temples in California and Arizona or click on https://accesspatrolservice.com.