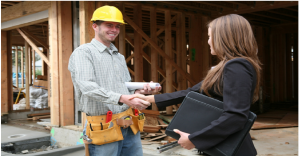 Construction sites have always been a breeding ground for convicts. Crimes like thefts and vandalism often occur at construction site as many expensive items remain scattered or unattended for a long period of time.  So, if a developer does not provide robust security protection to their sites, then they might have to bear huge loss due to damage of property or loss of expensive materials.
Our organization, Access Patrol Service (APS) are an eminent security service provider known for providing highly skilled security service facility to almost all sectors including construction sites. We have been in this business for more than 25 years now and so we are an adept security guard company in Sky Valley & Blythe, CA that can address every security concern of our client. With our dedicated and highly skilled security guards we provide best security service to construction site. Most importantly, all our security guards are BSIS certified and so client can completely trust on our service facility.
Our construction security guards ensure that no unauthorized individual get access inside the construction site. They keep a close check on every visitor and worker to protect the construction property from any kind of thefts and vandalism. Besides, they continuously patrol the entire area to diffuse piling up of suspicious activities. In case any suspicious activities are observed by them, then immediate corrective action are taken to protect the property from the danger.
Besides, to render accurate security service, our expert first visits the area to understand the security requirement of the place. And then, they formulate a comprehensive security plan. Only after this process is done, sufficient numbers of guards are allocated to the site.  Our security expert also ensures that the site has right number of armed, unarmed, static and mobile guards to provide ultimate security protection to the site.
Besides, ACS is highly tech oriented firm and for providing flawless service numerous advanced technologies are used. For instance – RFID tags, CCTV cameras, GPS monitoring system, biometric access control system, radio transmitters, metal detector, scanning machines, flashlights, cloud software, mobile devices, infra-red thermometer, automatic sanitizers are some of the technologies that are use by our construction security guards for absolute protection.
Moreover, we regularly train our guards to enhance their efficiency level. Therefore, during dire times they have all the capability to tackle or handle the situation proficiently. Even, they are capable of identifying impending danger speedily and so can act quickly to prevent danger from occurring.
Therefore, if you are someone looking for a trustworthy security guards company in Sky Valley & Blythe, CA, then get in touch with us ASAP.
Contact Access Patrol Services at 866-770-0004 with questions about security guard duties, responsibilities and functions for commercial office properties in California and Arizona or click on https://accesspatrolservice.com