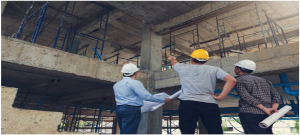 Each year, approximately 6. 2 million people work at construction sites in the U.S.  In these jobs, workers are prone to a wide range of occupational hazards. Lifting heavy equipment, dealing with complicated machinery, slipping, electrocutions, falling from heights, etc., are some of the dangerous situations that occur at construction sites.
As per Occupational Safety and Health Administration (OSHA), the construction industry has a higher rate of fatal injuries compared to any other industry.  Therefore, it is important to have top security protection at construction sites to monitor workers' activities to prevent such dangers. Besides, construction sites also are vulnerable to other types of risk, such as thefts and vandalism.  So, developers must ensure stringent security protection of their construction sites. Let us have a look at the responsibilities of construction site security guards:
Patrolling:  The main task of construction site security guards is to patrol the site persistently to abate activities that can lead to dangerous situations.
Checking entries and exits:   More than 100 people (labourers, developers, visitors) visit construction sites each day. Hence, it is important to keep track or record of each and every individual to ensure the complete safety of the site. The security guards stationed at the entry and exit points are assigned to allow only entry to the people who are authorized to be present at the site.
Taking rapid action to defuse crimes:  The construction site security guards are responsible to take instant action if they observe anything suspicious or fishy inside the construction site to prevent criminal activities from occurring.
Our company, Access Patrol Services (APS) is a trustworthy security company in Campbell & Los Gatos, CA that has an excellent team of BSIS-certified construction site security guards.  They are fully trained and experienced to render top-quality security protection to construction sites. Besides, for every site, APS's security specialist constructs an exclusive security plan to provide full security cover. Also, APS equips its guards with plentiful advanced gadgets such as metal detectors, CCTV cameras, flashlights, alarms, radio transmitters, scanning machines, automatic sanitizers, infrared thermometers, alarm devices etc., for delivering seamless and errorless construction site security.
Besides, APS has over 26 years of experience in the security domain and thus has the veracity to provide superior security protection of large premises like construction sites. Therefore, if you are looking for a trustworthy security company in Campbell & Los Gatos, CA for construction site security then, contact us immediately. APS also offers customized service facilities to the client so that they can opt for security specifications as per their needs and preferences.
Contact Access Patrol Services at 866-770-0004 with questions about security guard duties, responsibilities and functions for commercial office properties in California and Arizona or click on https://accesspatrolservice.com