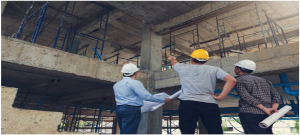 Each year, approximately 6.2 million people work at construction sites in the U.S.  In these jobs, workers are prone to a wide range of occupational hazards. Lifting heavy equipment, dealing with complicated machinery, slipping, electrocutions, falling from heights, etc., are some of the dangerous situations that occur at construction sites.
As per Occupational Safety and Health Administration (OSHA), the construction industry has a higher rate of fatal injuries compared to any other industry.  Therefore, it is important to have top security protection at construction sites to monitor workers' activities to prevent such dangers. Besides, construction sites also are vulnerable to other types of risk, such as thefts and vandalism.  So, developers must ensure stringent security protection of their construction sites. Let us have a look at the responsibilities of construction site security guards:
Patrolling:  The main task of construction site security guards is to patrol the site persistently to abate activities that can lead to dangerous situations.
Checking entries and exits:   More than 100 people (laborers, developers, visitors) visit construction sites each day. Hence, it is important to keep track or record of each and every individual to ensure the complete safety of the site. The security guards stationed at the entry and exit points are assigned to allow only entry to the people who are authorized to be present at the site.
Taking rapid action to defuse crimes:  The construction site security guards are responsible to take instant action if they observe anything suspicious or fishy inside the construction site to prevent criminal activities from occurring.
Apart from these reasons, security at construction sites becomes extremely important due to a number of reasons. Some of the most pertinent and important reasons are as follows:
Crime deterrent: More than taking actions to defuse crimes, the security personnel at the construction sites work as crime deterrent. Due to their presence, the criminals do not get the confidence to enter into the construction sites. Even workers and staffs do not do anything funny that can cause the security personnel to take actions. People fear of getting caught and detained. That is why they will steer clear away from any and all kind of trouble.
Taking care of machineries: It is important to keep in mind that someone has to take care of expensive machineries. There are a lot of costly machineries and equipments that are used in a construction site. Many times they are not kept in the proper place or in storage. This can cause damage to the equipments. Also, these equipments can be robbed and sold. That is why having proper construction site security is extremely important. They will keep an eye on the machineries 24*7.
Vigilance: You will need a security company in Campbell & Los Gatos to keep an eye on the activities going on the construction site. With the help of virtual security guards you will be able to monitor the construction site properly. They will supervise the activities of the staff and make sure no one is lagging behind. They will also ensure that no one trespasses into the property. Therefore, your project will be completed in the estimated time.
Emergency: The construction site security will help in emergency situations i.e., if fire outbreak happens then the guards will help the people inside the site to evacuate. The guards will also provide the necessary first aid service to the injured people. Having a security company in Campbell & Los Gatos by your side will be the best thing that has happened to the construction site.
Our company, Access Patrol Services (APS) is a trustworthy security company in Campbell & Los Gatos, CA that has an excellent team of BSIS-certified construction site security guards.  They are fully trained and experienced to render top-quality security protection to construction sites. Besides, for every site, APS's security specialist constructs an exclusive security plan to provide full security cover. Also, APS equips its guards with plentiful advanced gadgets such as metal detectors, CCTV cameras, flashlights, alarms, radio transmitters, scanning machines, automatic sanitizers, infrared thermometers, alarm devices etc., for delivering seamless and errorless construction site security.
Besides, APS has over 26 years of experience in the security domain and thus has the veracity to provide superior security protection of large premises like construction sites. Therefore, if you are looking for a trustworthy security company in Campbell & Los Gatos, CA for construction site security then, contact us immediately. APS also offers customized service facilities to the client so that they can opt for security specifications as per their needs and preferences.
Contact Access Patrol Services at 866-770-0004 with questions about security guard duties, responsibilities and functions for commercial office properties in California and Arizona or click on https://accesspatrolservice.com.