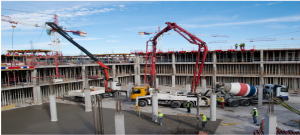 As per the statistic of the National Insurance Crime Bureau, construction sites incur over $300 million loss each year due to thefts and vandalism. Besides, workers at construction sites are usually prone to injuries.  There can be injuries from handling heavy equipment, electrocution, falling from heights, and so on.  Therefore, having strict supervision on construction sites is an absolute necessity to abate all kinds of threats.
Access Patrol Services (APS) is a top-rated security guard company in Bellflower & Lakewood, CA that provides complete protection to construction sites by deploying dedicated and BSIS-certified construction site security guards. The guards of APS are fully trained to recognize all kinds of risks that are associated with construction sites.  Hence, APS's guards have the expertise to take quick action to minimize and tackle threats that can pose threats to construction sites.
APS understands that continuous patrolling at the site is one of the effective ways to reduce criminal actions and eliminate piling up of suspicious activities.  And so, APS deploys a mix of static, mobile, armed, and unarmed security guards to the site to ensure the site is free from all sorts of dangers. They also keep a record of all the entries and exits on the site to eliminate confusion.  Besides, the guards take immediate steps to prevent chaos and fights amongst the construction sites.
Moreover, APS's guards also strictly enforce the construction site guidelines to all visitors, staff, and workers to deter intentional or unintentional vandalism.  The fact is, APS has been in the construction site security business for over 26 years and thus has the experience to render accurate security solutions to any large or small construction site. The guards are given training on a frequent basis to upkeep their skills which include intellect development programs, rapid decision-making programs, first responder awareness programs, crowd control management, power drill, and many more.
Plus, APS equips all its guards with many state-of-the-art gadgets such as CCTV cameras, GPS monitoring systems, radio transmitters, flashlights, scanning machines, metal detectors, etc., to ensure high-quality construction site security service delivery.
Moreover, APS offers tailor-made security services to its clients so that they can choose security specifications as per their needs and preferences.  Therefore, if you are searching for a highly professional or a top-rated security guard company in Bellflower & Lakewood, CA for the best construction site security service, then get in touch with APS for the same.
Contact Access Patrol Services at 866-770-0004 with questions about security guard duties, responsibilities and functions for commercial office properties in California and Arizona or click on https://accesspatrolservice.com