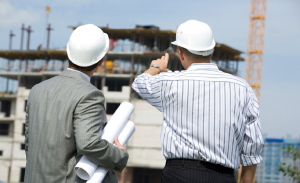 Construction site crimes are swelling impetuously and so developers must level up construction site security in Yorba Linda & Chino, CA. to prevent themselves from incurring huge losses. In a typical construction area, you would find expensive equipment and materials scattered all over the place. Be it cement, sand, wood or door accessories and bathroom fittings, there is a dearth of valuable material lying in the site. These materials are expensive and hence, lucrative to convicts. Therefore, vandalism, thefts and robberies have always been the prime concern areas for real estate developers
Therefore, to avoid any losses at the construction site, resilient security service turns out to be the most crucial factor. Our company, Access Patrol Services (APS) are a renowned security guard company in Yorba Linda & Chino, CA. We offer top quality professional security service facility in areas of any types and sizes. We have extensive experience of more than 25, and due to such rich experience, we are capable of catering premium security services to any complicated area including construction sites.
Our company understands that only experienced, efficient and dedicated security guards can do justice to the tough job of security personnel at a construction site. Therefore, we employ only the best with us. Our guards are BSIS certified which means there is no room left for uncertified guards to be assigned to the client site. Thus, you can be rest assured about the quality of the services being rendered by APS.
Besides, before rendering our services to construction sites, our security specialists chalks out a robust plan after observing and analysing the entire area. This process is carried out to calculate the risk percentage of potential vandalism or thefts in that area. Also, since our company is flexible in meeting the needs of our customers we always discuss our plans with them before execution. We ensure that our security services are aligned to meeting security requirements of our client at a very specific level.
Our security guards placed at a construction site are an amalgamation of armed and unarmed guards. They are placed strategically to ensure the entire perimeter is covered fully under the purview of our security surveillance system. Moreover, APS security guards at construction sites provide 24×7 foot as well as vehicle patrolling. This helps in keeping suspicious activities in check that can act as a threat to the property. Further, with the changing needs of customers, our company makes sure to upgrade the knowledge, skills, mental and physical capability of the security guards from time to time.
Now, one of the key features that makes our security services stand apart from other is that, our security personnel are technically sound. They use various types of modern security gadgets such as RFID tags, CCTV cameras, PS monitoring system, Biometric access control system, Radio transmitters, Flashlights, Cloud software, Mobile devices, Infra-red thermometer, Automatic sanitizers and many more.
If you are looking for top security guard company in Yorba Linda & Chino, CA for construction site security, then contact us immediately.
Contact Access Patrol Services at 866-770-0004 with questions about security guard duties, responsibilities and functions for commercial office properties in California and Arizona or click on https://accesspatrolservice.com