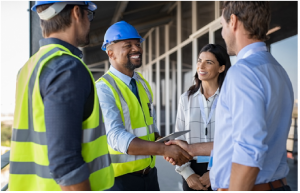 Construction sites are busy places bustling with all kinds of activities. It is also one of the most prone areas for thefts, robbery and vandalism. Wondering how a construction site can be so prone to theft?
Well, it is due to the several materials, equipment and machinery that have a high value in the market. It is therefore essential to safeguard the construction property to ensure business flow and operations take place without any losses or disruptions. And the best way to do that is by hiring the best security guards from the most renowned security guard company in Bellflower & Cerritos, CA for the full protection of your construction site. To help you understand the significance of construction site security guards, let's take a closer look.
Material Handling: One of the most common activities at a construction site is to manage and handle different types of construction materials. With every material kept in its required quantities, misplacing them can lead to serious issues for the builder. Security guards can keep a track of the materials being imported and carried out of the construction site. They can also make sure only the authorized people have access to the material.
Trespassing: A construction site is a place illegal activities can take place if outsiders have easy access to the site. Right from valuable equipment to machinery, every item deserves to be safeguarded, which can only happen when no trespassers will be allowed in the area. Trained and professional security guards can check the identities of every visitor before allowing them inside the construction site.
Emergency Response: If you have the best security guards deployed at the site you are lucky, especially during an emergency. It is common that people will sprint recklessly when an emergency breaks out creating a situation of chaos. During such critical times, only trained constriction site security guards can take intelligent actions and assist in bringing the situation under control as much as possible.
Smooth and Timely Operations: The construction business means the completion of quality work under difficult deadlines. Thus, it is important to ensure business operations are carried out without any hassles or challenges. Hiring the top-grade security guards will not provide you with a sense of safety but also ensure timely deadlines are met since operations will be executed in a smooth and timely manner.
Talking about the best security guards, Access Patrol Services (APS) is the name that stands for trust and dedication to security services. Be it a small or a large real estate project, APS security services can be customized as per the needs of the client.  The company offer top BSIS-certified construction site security guards.   APS is the most renowned security guard company in Bellflower & Cerritos, CA.
APS is aware that constant site patrolling is one of the most efficient strategies to lower criminal activity and get rid of the accumulation of suspicious behaviours. To guarantee the location is free from any threats, APS sends a mix of stationary, mobile, armed, and unarmed security officers there. To avoid misunderstanding, they also keep track of all entrances and exits at the location. Additionally, the guards act quickly to stop disorder and confrontations between the work sites.
To prevent intentional or unintentional vandalism, APS's guards also closely enforce the rules for the construction site for all visitors, personnel, and workers. Since APS has been in the construction site security industry for more than 26 years, it has the knowledge and expertise to provide reliable security solutions for any size construction site. In order to maintain their skills, the guards receive regular training in areas such as crowd control management, quick decision-making, first responder awareness, power drill, and many more.
In order to give top-notch security services for construction sites, APS also provides all of its construction site security guards with a variety of cutting-edge tools, including CCTV cameras, GPS tracking systems, radio transmitters, spotlights, scanning machines, and metal detectors. Apart from this APS also offers  round the clock service delivery to render maximum protection.
So, if you are looking to secure every nook of your construction area, get in touch with us today! APS is undoubtedly the most renowned security guard company in Bellflower & Cerritos, CA. 100 % professional construction site security guards will be delivered to you at a reasonable rate.
Contact Access Patrol Services at 866-770-0004 with questions about security guard duties, responsibilities and functions for commercial office properties in California and Arizona or click on https://accesspatrolservice.com