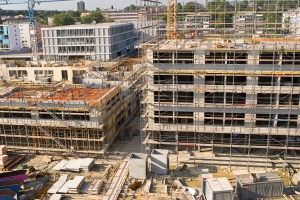 Every year numerous construction projects suffer huge losses merely due to poor security service arrangements. The truth is when a construction site has lenient security service facility; it automatically becomes a breeding ground for convicts. This is because high value vehicles; machinery and materials remain scattered at construction sites. And, those items are indeed lucrative for convicts to cash in. Besides, mishandling of materials, fire outbreak and vandalism are other factors that contribute majorly for construction site losses. Therefore, a robust construction site security is crucial for every small or big construction projects. On-site security personnel are quite efficient at deterring crime on construction sites because they are readily noticeable to would-be trespassers. If there is a uniformed officer there and in plain sight, burglars, vandals, and other unwelcome visitors are much less likely to infiltrate a construction site. Security personnel are taught to be extremely cautious and aware. They frequently have the ability to recognize suspicious conduct and are skilled at rapidly and correctly interpreting what they observe and responding accordingly.
Our Company, Access Patrol Services (APS) is a resilient security service provider in Alhambra & Monterey Park, CA that has been catering seamless security service to construction industry for more than 25 years. Due to such rich experience, we are able to serve accurate security needs of any construction sites. Besides, we deploy only skilled and BSIS licensed security guards to the sites for superior protection.
Moreover, we ensure that before providing security service to any construction site, our specialist visit the area to scrutinize and analyze the risk percentage associated with the site. Thereafter, a comprehensive security model is formulated and then appropriate numbers of security guards are positioned to the site. Also, the security specialists ensure that the guards are placed strategically or tactfully so that the entire perimeter of the construction site falls under the APS security surveillance purview. Besides, we also ensure that the site has a proper mix of armed, unarmed, static and mobile guards to handle any dire situation. We recognize that typical construction sites will always be equipped with a variety of large, heavy machines. This equipment, which may cost hundreds of thousands of dollars and is essential to a construction job, ranges from asphalt pavers and articulated trucks to backhoe loaders and excavators. Hence, we train our construction site security officers accordingly.  Our construction site security professionals are frequently charged with conducting audits on site equipment to help guarantee that important equipment remains accessible when needed.
In addition, we utilize various types of advanced technology such as RFID tags, CCTV cameras, GPS monitoring system, radio transmitters, metal detector, scanning machines, flashlights, cloud software, mobile devices, infra-red thermometer, automatic sanitizers and other latest gadgets to provide full-bodied protection to construction sites.  Besides, we also recognize that the most frequent crimes that take place on construction sites are theft and vandalism. Security guards contribute to crime prevention by taking swift action when necessary. Our security guards will constantly monitor what is happening on a building site and report any unusual activities. They are efficient and are proficient to deal with any kind of difficult situation and know when to call for assistance if a theft, vandalism, or trespassing concern arises. So, you can definitely consider APS for robust construction site security as it a highly professional security service provider in Alhambra & Monterey Park, CA.
Furthermore, 24 hours security service facility along with foot patrol and vehicle service is also available in APS. The guards stay extremely vigilant and active during their shift hours and ensure that the site is free from any suspicious activities.
Last but not the least, we also provide full customization facility to our customer. So, the builder or construction site developer can choose or add security specifications as per their needs and preferences. The fact is officers in charge of security at construction sites are tasked with carrying out a variety of crucial tasks that aid in the completion of building projects. Security guards work hard to protect workers, construction businesses, and their projects from any risks and adopt a proactive approach to crime prevention.
Therefore, if you are searching for a security service provider in Alhambra & Monterey Park, CA for robust construction site security, then contact APS immediately.
Contact Access Patrol Services at 866-770-0004 with questions about security guard duties, responsibilities and functions for commercial office properties in California and Arizona or click on https://accesspatrolservice.com