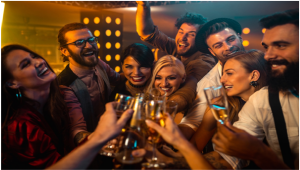 Organizing an event is a complicated process which requires meticulous planning and investment of resources. Without proper planning and execution, it is difficult to make your event a successful one. Also, there is another essential aspect that is an absolute necessity to establish a safe ambience for your event i.e. Professional security services. Until and unless you have the best security strategies in place, no matter how wonderful your event arrangements are, even a minute chaos or ugly brawl between guests can spoil your entire event. And thus, to eliminate such ugly moments and uncertain dangers, it is essential to hire dedicated professional event security guards from Access Patrol Services (APS) for your event.
APS is a client-centric organization that offers professional security protection to clients and their events by providing BSIS-certified and fully trained security guards. The company carries has over 26 years of experience and thus has extensive knowledge to meet the security needs of clients. APS is now the most preferable security guard company in Jurupa Valley & Riverside, CA, owing to its first-rated and accurate security service delivery.
To deliver accurate event security service, APS structures a security plan based on various critical aspects such as the client's need, the perimeter of the venue, the location of the event, the time and even the season. Thereafter, the guards are strategically positioned at the event venue to ensure the entire perimeter event falls under the security surveillance system of APS.
APS guards are highly efficient individuals who can defuse brawls, fights and detect impending threats. Thus, they are also capable of taking swift decisions in times of need. During the event, the guards remain incessantly vigilant and patrol the premise to ensure no uninvited or unauthorized guest slips into the event venue.  Plus, if the guards observe any fishy activities they take the responsibility to verify the same and take control of the situation to avoid ugly moments.
Moreover, they use RFID tags, CCTV cameras, radio transmitters, metal detectors, scanning machines, cloud software, mobile devices, infrared thermometer, automatic sanitisers and other latest gadgets for seamless event security service delivery.
Last but not the least, customized facility service is also offered to the event organizer so that they can pick or formulate security plans as per their suitability.
Therefore, if you are searching for the most preferable security company in Jurupa Valley & Riverside, CA for your upcoming event or then, contact APS immediately for the same.
Contact Access Patrol Services at 866-770-0004 with questions about security guard duties, responsibilities and functions for commercial office properties in California and Arizona or click on https://accesspatrolservice.com