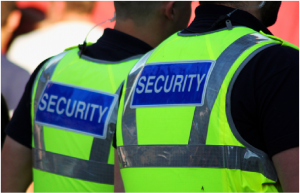 If you are arranging an event, it is obligatory for event organizers to arrange for tough security protection to secure event premises firmly.   Chaos, brawls, and fights are usual sights during an event. Therefore, to maintain order and mitigate risk, hiring professional event security guards is indispensable for an event.
We, Access Patrol Services (APS) are one of the best security guard companies in Imperial Beach & Coronado, CA that has high expertise to provide high-hat security service to events.  We have a team of skilled and BSIS-certified event security guards that have a high ability to secure any size and type of event. The security guards are trained meticulously in various aspects such as crowd control management, power drills, intellectual development programs, fire responder awareness programs, and many more.  Hence, they are aware of the security threats that may arise in an event and know how to avert the same. Needless to mention, they are also capable of recognizing awaiting threats and can act to deter crimes from occurring.
The fact is, for over 26 years; APS has been rendering impeccable security service to countless events. And owing to such extensive experience, we hold high expertise to render accurate security solutions to events.  Being a process-driven firm, we structure a solid security plan determining the risk percentage associated with the event venue.  Once the plan is prepared, an appropriate number of security guards armed, unarmed, static, and mobile guards are deployed to ensure complete security protection of the event.  The guards patrol the entire premise scrupulously to discard all chaos, brawls, fights, or suspicious activities. They remain highly vigilant throughout the event and also enforce rules and regulations for all the visitors to maintain the ambiance of the event. We aim for perfection and are thus known as the most professional security guard company in Imperial Beach & Coronado, CA.
APS uses the best technology to provide seamless security service.  And therefore, from time to time we not only train our guards with advanced techniques but also provide them with space-age gadgets for errorless security service delivery.  Various gadgets such as CCTV cameras, scanning machines, metal detectors, infra-red thermometers, and flashlights, GPS monitoring systems, mobile devices, automatic sanitizers, and many more are used by our event security guards.
Besides, APS offers a customization facility to event managers so that they can choose security features as per their needs and preferences. Therefore, if you are someone looking for one of the most trustworthy and best security guard companies in Imperial Beach & Coronado, CA, APS is definitely the right option that you can look up to.
Contact Access Patrol Services at 866-770-0004 with questions about security guard duties, responsibilities and functions for commercial office properties in California and Arizona or click on https://accesspatrolservice.com