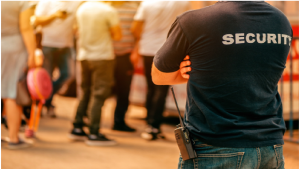 If large events are planned without having proper security service in place, then there are high chances of chaos, vandals, thefts, fight and brawls. Besides, the presence of security guards in an event enriches the guests' experience. So, in the midst of all the arrangements for your event, don't overlook the importance of having professional event security guards.   Now, before you pick security services from a security company, there are few key points which you must consider so that you receive genuine security service and those are as follows:
Reputation:  It is essential to check the reputation of the security services provider before you engage with them.  Make sure that the service provider has good track record of offering quality security facilities.  Also, you can ask for references from other businesses or individuals who have used the provider's services.
Experience:  A company that has good amount of experience in the security service domain is highly reliable. Those companies have rich experience pertaining to all types of possible security threats and thus have the ability to render accurate security service facilities to its clients or any premise.
Licensing and Insurance:  You must ensure that the company you are choosing is licensed by the state and insured.
So, if you are searching for a security company with the above features, then look no further. Access Patrol Services (APS) is a highly professional and popular security guard company in Mojave & Rosamond, CA that you can absolutely rely for top class security protection.
APS specializes in event security services.  It has over 26 years of experience in event security and has provided flawless security service to large as well as small events. All event security guards of APS are BSIS certified and experienced. Hence, they are adept at establishing a safe ambience by limiting chaos and discarding suspicious activities in the event. During the event, they take the responsibility to persistently patrol the event venue to ensure nothing hampers the event.
The fact is, APS' event security guards are provided training frequently to enhance their skill sets. Crowd control management, intellect development programs, intellect development programs, power drills, first responder awareness programs, threat identification etc are some of the mandatory training sessions for the APS guards.  Therefore, the guards of APS have the ability to spot threats and mitigate them before it becomes a serious issue.  The APS's guards understand that patrolling is one of the best ways to deter crimes from occurring. It is a fact that criminals are intimidated by the presence of security guards and often they refrain from committing crimes in areas where security guards are present or are in patrol.
In addition, it is easier to reach out guards those are patrol for any assistance thereby providing sense of security to the guest of the event. During event, security personnel can help elderly people, children, or those with disabilities to get the required help. They can then take steps to provide assistance and ensure that these individuals are safe.
Additionally, many state of the art technologies such as CCTV cameras, GPS monitoring systems, radio transmitters, RFID tags, scanning machines, metal detectors, automatic sanitisers, infrared thermometers and many more are used by the event guards of APS for providing errorless security service facility. Therefore, event security guards of APS are not only trained and skilled about also well equipped to offer highly professional security service.
Most importantly, APS craft an exclusive security plan based on the location, size and type of the event. Also, APS's security specialist first visits the event venue, marks all the critical spots and then prepares the finalized plan. Thereafter, sufficient number of armed, static, mobile, and unarmed guards is deployed to the event site for absolute protection.  Due to its accurate security service facility, APS is now considered the most popular security guard company in Mojave & Rosamond, CA.
Moreover, APS offers customized security services to event organizers. Hence, event organizers can also plan or choose security features as per their needs and preference. For instance – if the event organizers require more foot patrol services or armed security guards in the event instead of unarmed guards, then APS would immediately implement it without dragging the event organizers into the hassles of complicated formalities.
Therefore, if you are searching for a highly professional and popular security guard company in Mojave & Rosamond, CA for event security then gets in touch with APS for the same. 100 % professional event security guards will be offered to you at a reasonable rate.
Contact Access Patrol Services at 866-770-0004 with questions about security guard duties, responsibilities and functions for commercial office properties in California and Arizona or click on https://accesspatrolservice.com