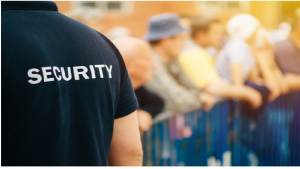 During events, the chances of brawls, fights, and chaos are typical due to the huge accumulation of crowds. So, to secure large events, it is extremely vital to hire professional security guards to secure the premise. Also, it is a known fact that convicts especially lay their eyes on events that are inadequately protected.  Hence, for establishing a safe ambiance or to eliminate chaotic situations, event organizers must consider hiring services from an authentic source or from a veteran security service provider like Access Patrol Services (APS).
APS is a remarkable security company in Detroit, MI that offers the finest security protection to all types and sizes of events by providing exceptionally skilled security professionals to the event premise. We, APS have massive 26+ experiences in the field of security service which enable us to provide accurate and flawless security service to clients.  We deploy only BSIS-certified guards to the event premise. Besides, we train our guards scrupulously to boost their efficiency level.  We arrange frequent training programs such as crowd control management, power drills, decision-making programs, first responder awareness programs, intellectual development programs, and many more. Hence, our event security guards are adept at managing and tackling critical situations proficiently. They constantly stay on their toes during the event and continuously patrol the premise to discard brawls, fights, mischievous activities, or suspicious stuff to minimize threats. They also take the responsibility to enforce event guidelines to ensure complete order in the event premise.
The most salient feature of our organization is that our security specialist thoroughly scrutinizes the entire event premise before rendering security services. Once the analysis is completed, a robust security plan is structured keeping all the sensitive areas in mind. And thereafter, a proper mix of armed, unarmed, static, and mobile guards is allocated to the site for complete protection.
Most importantly, as we are a technologically inclined company, we provide our event security guards with state-of-the-art gadgets to keep a detailed track of the activities of the event. Thus, our guards are always well equipped with GPS monitoring systems, radio transmitters, CCTV cameras, automatic sanitizers, infrared thermometers, metal detectors, scanning machines, alarms, mobile devices, RFID tags, and many more.  Also, we offer customization facilities to the event organizers so that they can pick security specifications as per their needs and preferences.
Therefore, if you are searching for a highly professional security company in Detroit, MI then, contact us ASAP.
Contact Access Patrol Services at 866-770-0004 with questions about security guard duties, responsibilities and functions for commercial office properties in California and Arizona or click on https://accesspatrolservice.com