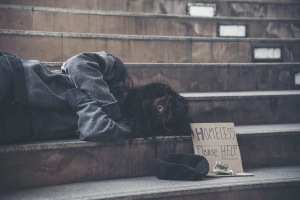 Hire a sensible and professional security guard company in Lompoc & Solvang, CA for dealing with homeless people
Due to the rise in homelessness in the U.S, the demand for sensible, responsible and professional security guards is also mounting.  Many people are claiming that they are unable to handle homeless people when they unintentionally inhabit their spaces.  They added that they find it a mentally draining task to remove or shift them to other places.
Now, the fact is, dealing with homeless people with the right kind of approach is not an easy job. We, Access Patrol services (APS) understand that exceptionally well. And so, we are a security guard company in Lompoc & Solvang, CA that not only provide robust protection to clients but also help them in dealing with homeless people. We have extensive experience of around 25 years in the security service domain. And owing to such mammoth exposure we are familiar with dealing with all kinds of critical situations including homeless people. The guards in our organization are all BSIS certified and so no uncertified guards are deployed to the client.
Besides, our organization provides training to the guards in such as manner that they not only posses' physical strength and resistance but also have the ability to deal with sensitive issues in an appropriate way. So, while dealing with homeless people, our guards keep a compassionate yet firm tone.  Moreover, since our security guards for homeless people are experienced individuals they know that not keeping a balanced attitude can inflame the situation at any moment. Therefore, while instructing homeless people our guards remain extremely carefully.
But, it is also a hard truth that not all homeless people are submissive, some are aggressive as well. And often the aggressive ones are adamant and refuse to move from their spaces. In those situations, our guards efficiently handle the situation by taking the help of the police and nearby support centres. For this reason, our security guards for homeless people keep themselves updated with the contact numbers of the police stations, NGOs, and support centers for homeless people. The fact is our guards refrain from taking aggressive action until and unless the situation demands.
Apart from this, we provide security services with a blend of technologies.  Several advanced gadgets such as GPS monitoring systems, CCTV cameras, radio transmitters, metal detects, audio deterrent devices, flashlights, etc., are used by our guards to provide seamless service to clients.
Therefore, if you don't know how to handle homeless people when they inhabit your space or if you want robust security protection, then get in touch with us ASAP.  We are the most trusted security guard company in Lompoc & Solvang, CA that can provide you with highly professional security services at an affordable price.
Contact Access Patrol Services at 866-770-0004 with questions about security guard duties, responsibilities and functions for commercial office properties in California and Arizona or click on https://accesspatrolservice.com