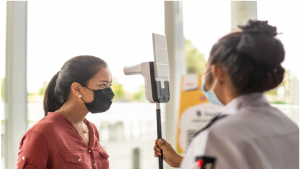 Hospitals are not a new domain for violence. As per reports, over the last two years, there has been a considerable increase in crime occurrences in hospitals. At present, thefts, and robberies, break-ins are frequently reported by hospitals.  Therefore, healthcare centers are escalating their security service for establishing a safer ambiance. So, if you are also looking for robust hospital security then look no further.
Access Patrol Services (APS) is one of the top security companies in Bell Gardens & Montebello, CA that offers integrated security solutions to hospitals. It has a robust team of trained hospital security guards. These guards are deployed intelligently covering all the hotspots of the hospital premises. In fact, we construct a comprehensive security model after analyzing the entire layout of the assigned hospital premise.
The reason people trust our security force is due to their robustness, professionalism, and accurate security service delivery. The fact is, we take great pride in our service standard. And to keep the quality intact, we train our guards rigorously.   Some of the training sessions arranged for our guards are rapid decision-making programs, intellect development programs, power drills, first responder awareness programs, and many more.  These programs specifically aim to enhance the existing skills of the guards. Hence, our guards are highly observant and have the ability to actively respond to the approaching threats.
Honestly, due to our immaculate service quality, we ranked among the top security company in Bell Gardens & Montebello, CA.  The fact is we have been in the security market for more than 26 years. And owing to such experience, we have the ability to provide absolute security protection to hospitals.
We allocate all types of guards such as armed, unarmed, and static and mobile guards to the hospital premise to mitigate all types of dangers in the hospital premise. Also, our guards make sure that all the visitors must follow the rules and regulations of the hospitals.  Our guards help to enforce the hospital guidelines to all the visitors to maintain the decorum of the premise. Besides, the guards are provided with many advanced gadgets such as CCTV cameras, GPS monitoring systems, radio transmitters, metal detectors, scanning machines, automatic sanitizers, infrared thermometers, etc to provide seamless security protection to the hospital premise.
Needless to mention, we also offer customized security service facilities to hospital authorities to make sure all their security needs and preferences are implemented.
Therefore, if you are searching for one of the top security companies in Bell Gardens & Montebello, CA for complete hospital security, then gets in touch with us ASAP. 100% professional security service will be offered to you at an affordable rate.
Contact Access Patrol Services at 866-770-0004 with questions about security guard duties, responsibilities and functions for commercial office properties in California and Arizona or click on https://accesspatrolservice.com