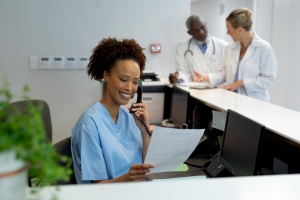 Hospitals are places that hold immense importance as it is directly related to human health. Be it a patient, doctor, nurse or healthcare professional, it is a place populated with all kinds of people, everyone with a serious purpose. Consequently, it is essential to keep the premises of hospitals under thorough surveillance for smooth operation. And to ensure a hospital runs without interruptions deploying professional security guards are a must
The role of security guards is extremely significant here as they need to make sure proper decorum is maintained at the hospital. Let's take a few examples. There are several spots in the hospital where entry is restricted for everyone except doctors and nurses. Security guards are needed to guard such spots and check only authorized personnel is allowed to have access to the place.
Further, a hospital is a place where mixed emotions can be noticed. Often time's people break down with the news of the death of their near and dear ones admitted to the hospital and act aggressively with the doctors and nurses. During such critical times, the intervention of professional security guards becomes of utmost essential. We have also come across news where patients' relatives have tried to vandalize the hospital properties due to alleged mismanagement. One definitely needs robust security guards who are capable of tackling such difficult situations.
We, Access Patrol Services (APS) are one of the most well known security guard service providers in Bloomington & Fontana, CA, serving clients for over 25 years. Our security guards are specialized in handling difficult situations that arise in hospitals and help in maintaining the decorum of the hospitals.  They are trained security professionals who are experts to secure the critical areas of hospitals in the best possible manner. For instance – since a lot of monetary transactions takes place in the reception area, our hospital guards ensure that the reception area is not crammed as the probability of petty thefts and vandalism increases to a great extent if the reception remains crowded.  Our hospital security guards hence remain extremely vigilant when they are on duty.
The guards ensure that every visitor abides by the hospital guidelines. Moreover, our company acknowledges the importance of technology in today's world and therefore, our guards are well equipped with the latest security checking devices. All the visitors are checked thoroughly before they enter the hospital premises to ensure the safety of the patient, hospital staff and doctors. Apart from this, they use CCTV cameras for visual vigilance, scanning machines, metal detectors, GPS tracking system and radio transmitters and many more equipment that helps them render enhanced security services to hospitals.
Therefore, if you are searching for one of the top well known security guard service providers in Bloomington & Fontana, CA, then get in touch with us. We provide only BSIS certified hospital security guards for professional security service facilities.
Contact Access Patrol Services at 866-770-0004 with questions about security guard duties, responsibilities and functions for commercial office properties in California and Arizona or click on https://accesspatrolservice.com