Get robust protection for hospitals by picking  top security guard services in San Francisco & San Pablo, CA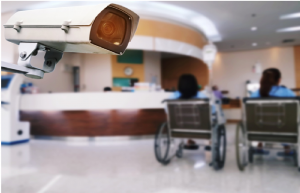 In hospitals, security service is immensely critical. Irrefutably, on a daily basis both bad and good news transpires in these premises. And frankly, sometimes it becomes difficult for nurses and doctors to handle indifferent behaviour, aggression, or sudden outburst of emotions of visitors.  Therefore, in-hospital premise stringent security service is a must.
We, Access Patrol Services (APS) are an eminent security service provider that provides highly professional security guard services in San Francisco & San Pablo, CA to hospitals or healthcare centres. With over 50 years of experience in the security industry, APS has the proficiency to deliver nothing but top-quality security services to clients.
We choose our security guards based on their performance, flexibility, and certification. If the guards are not certified under the Bureau of Security & Investigative Services (BSIS) then we do not employ them. Therefore, clients can be 100 % sure that only certified guards are provided or positioned at their site.
Besides, the guards are trained intensively on a regular basis so that they always remain active, vigilant, and efficient. Crowd control management, intellect development sessions, physical strength trainings are some of the programs that are conducted frequently for all the hospital guards.  Therefore, the hospital guards of APS are immensely efficient to detect impending danger. Consequently, they are quick at decision-maker as well.
The striking feature of APS is it is a highly customer-centric and process-driven security firm.  So, before providing security services to any area, the entire layout of the assigned hospital is first scrutinized by the APS security specialist, and thereafter a robust security plan is chalked out to render accurate security solutions to the hospital.
The main responsibility of our hospital guards is to continuously patrol the hospital premises to ensure no suspicious activities piles up in the premises. Besides, the guards are highly responsible for enforcing hospital guidelines for every visitor. They ensure that the decorum of the hospital premises is maintained properly.
Besides, the APS hospital guards are trained so efficiently that they have the ability to sense impending danger. Therefore, the hospital security guards of APS are quick at making decisions. They are also efficient in handling irate visitors in a calm and composed manner.
Apart from all these, the most important aspect is it is tech-driven firm and numerous advanced technologies such as RFID tags, CCTV cameras, GPS monitoring systems; biometric access control systems, radio transmitters, metal detector, scanning machines, flashlights, cloud software, mobile devices, and many other latest appliances are extensively used by the hospital security guards.
Therefore, if you are searching for the finest company for genuine security guard services in San Francisco & San Pablo, CA then get in touch with us immediately.
Contact Access Patrol Services at 866-770-0004 with questions about security guard duties, responsibilities and functions for commercial office properties in California and Arizona or click on https://accesspatrolservice.com