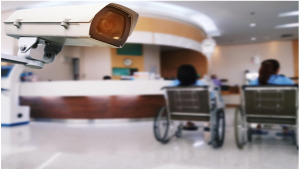 Every day hospitals encounter numerous challenges. Starting from patient aggression, theft to vandalism, healthcare professionals face such incidents repeatedly. So, to maintain order and modestly of these premises, security is one of the top concerns for the hospital management. It is imperative to have resilient hospital security to ensure complete safety of these premises. So, if you are planning to escalate hospital security, look no further.
Access Patrol Services (APS) is a high-flying security company in Bell & Maywood, CA that deploys professional hospital security guards to protect hospital premises from threats and dangers. These guards are BSIS certified and meticulously trained individuals. The hospital security guards of APS undergo rigorous training on a frequent basis to ensure they have the ability to detect and deter dangers from occurring on the hospital premises.  The training sessions include power drills, rapid decision-making programs, crowd control management, intellectual development programs, etc. Besides, to maintain the decorum of the hospital premises, the guards strictly enforce the hospital guidelines to every visitor and make sure they abide by the rules. If the guards observe any mistrustful activities inside the hospital premises, they instantly take action to investigate the same and defuse chaos from occurring.
APS has served many hospitals for more than 26 years and owing to such humongous exposure APS has gathered the ability to offer top-quality security protection to hospitals. APS acknowledges hospital security is exceedingly complicated; hence the company formulates an exclusive security plan before rendering security services to any hospital setting.  All the critical areas of the hospitals are marked and identified before deploying the guards. Apart from placing the guards strategically, APS also ensures that the premise has an appropriate allocation of all types of guards (armed, static, unarmed, and mobile) for superior security service delivery.
Also, the guards of APS are provided with various types of state-of-the-art equipment such as CCTV cameras, automatic sanitizers, metal detectors, GPS monitoring systems radio transmitters, alarms, scanning machines, infrared thermometers, flashlights, etc., for absolute hospital security.
Needless to mention, APS also offers customized services to the hospital authority so that they can pick security features as per their requirement.  Also, a short-term contract facility is also offered by APS.
Therefore, if you are looking for highly professional security company in Bell & Maywood, CA absolute hospital security, then get in touch with APS for the same.
Contact Access Patrol Services at 866-770-0004 with questions about security guard duties, responsibilities and functions for commercial office properties in California and Arizona or click on https://accesspatrolservice.com