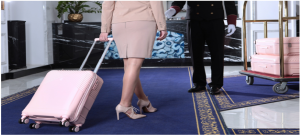 As per studies, the hospitality industry is excessively prone to several types of threats ranging from thefts, murders, mass shootings to vandalism. It has been observed that posh hotels are mostly targeted by criminals for bombing, gun shooting, delivery of explosives etc.
Therefore, as a hotel owner, you need to be mindful of the security measures of your hotel.  If customers don't feel safe inside your hotel, then they are less likely to visit your hotel the next time.  So, apart from prioritizing hospitality, you also need to instill a sense of protection in your customers to grow your business.
Let's have a look at the benefits of having professional hotel security guards:
To Ensure Safety:   The primary responsibility of security guards is to ensure safety in all the crucial spots of hotels. So, from dark alleys to less used stairways, professional hotel security guards patrol each and every corner of the hotel to provide complete security protection.
To enforce hotel guidelines:   Hotel security guards are tasked to maintain the modesty of the hotel premise. For example – prevent customers from smoking at no-smoking zones inside the hotel. Besides, they eliminate all sorts of suspicious or unlawful activities of customers to ensure maximum protection.
To defuse approaching threats:  To defuse threats, a quick response from security guards is imperative. And, professional security guards are trained to detect approaching threats and thus can take prompt action to prevent bad situations from getting worse.
So, for top-quality hotel security, you must hire hotel security guards from a trustworthy security company in Barstow & Yermo, CA. Professional security companies have the understanding of how to render the best possible security protection to hotel premises.
And, Access Patrol Services (APS) is one such security company that you can trust for absolute security protection of your hotel premise. The company has been in the hotel security business for over 26 years. Hence, APS has the adeptness to address all types of security threats that may occur on a hotel premise.
The guards of APS are experienced, specially trained and BSIS certified.  Hence, they know how to render accurate security service to hotel premises. Besides, APS guards are provided with many state-of-the-art gadgets such as CCTV cameras, scanning machines, radio transmitters, mobile devices, metal detectors and many more to provide ultimate security protection to hotel premises.
Therefore, if you are searching for a highly professional or trustworthy security company in Barstow & Yermo, CA for top-quality hotel security then gets in touch with us ASAP.
Contact Access Patrol Services at 866-770-0004 with questions about security guard duties, responsibilities and functions for commercial office properties in California and Arizona or click on https://accesspatrolservice.com