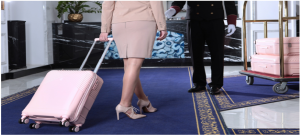 As per studies, the hospitality industry has become more prone to uncertain threats and dangers due to its "open door "concept.  It has been observed in the past that often posh hotels are targeted by bombing, gun shooting, delivery of explosives etc. Also, stealing, robbing, and frauds are also common in hotels.
Therefore, being a hotel owner, you must prioritize security services along with hospitality.  Your customers won't trust your hotel service, if there are scopes for threats or dangers, no matter how wonderful your hotel services are or your dining options.  So, to provide the best experience to your customers, it is important to have a professional security service in place to provide complete peace of mind to your staff and guests.
Here are three prominent reasons why you should hire a professional security service for your hotel:
Ensuring safety in the crucial spots:  From less used stairways to dark alleys, there are numerous spots where crimes can take place.  Security guards stationed at these places can extremely help to minimize threats inside the hotel premise.
For instant actions to defuse approaching threats: To abate criminal incidences, it is important to identify the impending threats. Professional guards often possess the ability to quickly respond to approaching dangers.
Escorting guests to the parking areas: Often parking spaces are vulnerable to thefts, abductions and extortions. Hence having professional guards stationed at parking lots of hotels can provide protection to the guest.  Sometimes, the guards also escort the guest to the cab or to their car.
So, if you are searching for top-quality hotel security, it is important that you hire hotel security guards from a trustworthy or renowned security company in Walnut & Diamond Bar, CA.  Professional security companies have the understanding of how to render the best possible security protection to hotel premises. And, Access Patrol Services (APS) is one such security company you can trust for complete security protection of your hotel premise.
The guards of APS are specially trained to recognize all the security threats that may arise inside a hotel premise.  Numerous training programs such as crowd control management, power drills, rapid decision-making programs, intellectual development programs and many more are provided to the guards to enhance their service quality.
Also, these guards are provided with many state-of-the-art gadgets such as CCTV cameras, radio transmitters, mobile devices, metal detectors, scanning machines and many more to provide ultimate security protection to hotel premises.
Therefore, if you are searching for a highly professional or renowned security company in Walnut & Diamond Bar, CA for top-quality hotel security then gets in touch with us ASAP.
Contact Access Patrol Services at 866-770-0004 with questions about security guard duties, responsibilities and functions for commercial office properties in California and Arizona or click on https://accesspatrolservice.com