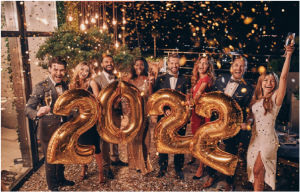 Excited to celebrate the old year out and New Year in? Well, we all are.
So, if you are arranging a grand New Year party celebration at your place, then you must prioritize including professional security services to protect your guest, your loved ones and your event. You must be thinking there is no need for it in a New Year party celebration.
Here's a harsh fact for you, according to surveys, most robberies, thefts, vandalism, arson, larceny occurs during this time of the year. And the only reason why it occurs during the festive time is that people often neglect their safety and security which makes it downy for convicts to carry out their motives. Therefore, we, Access Patrol Services (APS) provide absolute protection to large premises, events and clients especially during times of festivals and occasions.
We train our guards very meticulously keeping in mind all the critical security threats that may arise during the time of the festive season or during Christmas and New Year. So, if you are looking for security services for New Year party or Christmas party, you can utterly trust us. We have over 25 years of experience in the security service industry and hence hold high expertise to meet all critical security needs of clients.  Besides, we have also been tagged as one of the most promising security companies in Rialto & Colton, CA.
Our BSIS guards remain well equipped with many advanced gadgets for catering to seamless service to assigned premises or events. For instance – GPS monitoring systems, RFID tags, CCTV cameras, biometric access control systems, radio transmitters, metal detectors, scanning machines, flashlights, cloud software, mobile devices, infra-red thermometer, automatic sanitizers are some of the latest appliances which are used by our security guards for ensuring full safety to any event.
The most significant aspect of APS is its ability to render accurate security service facilities to all types of premises. And therefore, before providing security services to any premises or event, the security specialist verifies the premise, marks the sensitive spots and then formulates a robust security model based on the analysis. The guards are positioned in a very strategic manner to ensure the whole perimeter of the assigned premise is covered under the security surveillance of APS.
Besides, the guards are specially instructed to remain extra vigilant during the time of the event. And so the guards stay on their toes and ensure only authorized individuals are allowed inside the premises. Moreover, if they observe any fishy activities or unruly behaviour of any guest, they immediately verify the situation and try to pacify the guest. The fact is APS guards are highly responsible and sensible protectors whom you can trust for superior security service facilities.
Therefore, if you are looking for one of the leading security companies in Rialto & Colton, CA for security services for New Year party or Christmas party then gets in touch with APS for the same.  APS also provides personalization facilities.
Contact Access Patrol Services at 866-770-0004 with questions about security guard duties, responsibilities and functions for commercial office properties in California and Arizona or click on https://accesspatrolservice.com