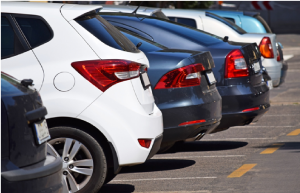 Many reports revealed that parking areas with inadequate security service are habitually vulnerable to various kinds of criminal activities such as thefts, extortions, arson vandalism, murders etc. It was identified that since parking garages often have blind spots, it becomes simpler for criminals to target this place to carry out their motives. Hence, if you are into parking lot business with a regular security service facility, then it's time that you get professional and strong parking lot security to prevent criminal activities from occurring at your parking garages.
Access Patrol Services (APS) is the most well-known security guard company in Montebello & Bell Gardens, CA that provides superior security protection by implementing advanced technologies into its services. Also, the company hires only BSIS certified security guards to ensure quality service is delivered to clients.
APS has a profound understanding of the possible threats in parking lots. Hence, before rendering security service to any parking lot, APS's security experts scrutinize the premise, classify the sensitive points and then only proceed to structure a comprehensive security model for the parking lot. The key responsibility of the APS's parking guards is to ensure that no car is parked in the prohibited zone and leaves the parking zone without making the payment.   They are also responsible to help the drivers to find the right parking area for their cars. Most importantly, they ensure to keep the premise free from suspicious or malicious activities.  For this reason, APS allots a mix of armed, unarmed, static and mobile guards to parking areas.
The fact is APS provides rigorous training to all its guards to keep them active, vigilant and robust. Hence, if the guards sense any unruly activities in the parking area they do not abstain from taking immediate action to discard criminal activities from occurring.
Additionally, many advanced technologies such as CCTV cameras, metal detectors, scanning machines, flashlights, cloud software; mobile devices etc are also used by the APS's guards to provide supreme quality security service to clients.
Honestly, APS has experience of over 25 years in the security service industry and thus are highly capable of rendering accurate security solutions to clients. It also offers customized security solution to clients so that they can opt for security specifications as per their needs and wants. APS also offers a short-term security facility so that clients can cancel the contract at any moment if not satisfied with the services of APS.
Therefore if you are in search of a professional and well-known security guard company in Montebello & Bell Gardens, CA for robust parking lot security then definitely gets in touch with APS. 100% professional security service facility is guaranteed.
Contact Access Patrol Services at 866-770-0004 with questions about security guard duties, responsibilities and functions for commercial office properties in California and Arizona or click on https://accesspatrolservice.com