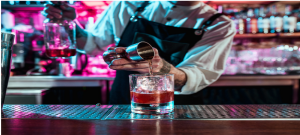 Alcohol and crimes are highly co-related.  Researchers have examined that alcohol-related crimes range from minor to serious property and physical crimes. Hence, bars and restaurants that serve alcohol must have high hat security facilities to maintain the decorum of the place. Also, often heavy drinkers are found manifesting aggression toward the bartenders, partners or others in the bar. During those times, it becomes of utmost necessity to intervene to prevent situations from getting worse. Therefore, having tough and robust security professionals at nightclubs, bars or restaurant is an absolute prerequisite.
Let's have a look at the other benefits of having security guards at your restaurant:
Offers a sense of security to your customers: A restaurant or bar that has robust security service is usually preferred by customers as it instills a sense of security in them. Besides, having professional and uniformed security guards represents the standard of the restaurant or bar.
Prevent crimes: Having uniformed security guards stationed at the entry and exit of your restaurant or bar can greatly minimize criminal' activities.  Intruders or offenders often feel intimidated in the presence of armed security guards.
Maintain order:  The guards help to maintain the order in the restaurant by assisting the customers and handling them professionally. They help to defuse brawls, chaos and aggressive behavior of customers.
So, if you are in need of professionally trained security personnel for your restaurant or bar, then rely on the most trustworthy security company in West Hollywood & Hollywood, CA which is Access Patrol Services (APS).
APS has provided flawless security service to countless restaurants, nightclubs and bars for more than 26 years.  APS has the ability to meet the accurate and specific needs of the assigned bar or nightclub. A separate unique security model is structured for each and every premise to ensure complete security coverage.  APS doesn't compromise on the safety of the client and their customers and hence only qualified and BSIS-certified security guards are offered to the assigned premise.
Also, APS is highly inclined to technology and believes in advanced security gadgets for providing seamless restaurant security service. Hence, APS guards are provided with many state-of-the-art gadgets such as radio transmitters, CCTV cameras, metal detectors, scanning machines, GPS monitoring systems and many more.
Therefore, if you are searching for the most trustworthy security company in West Hollywood & Hollywood, CA for the absolute protection of your restaurant or bar, then get in touch with APS for the same. 100 % professional restaurant security service will be provided to you at a reasonable rate.
Contact Access Patrol Services at 866-770-0004 with questions about security guard duties, responsibilities and functions for commercial office properties in California and Arizona or click on https://accesspatrolservice.com