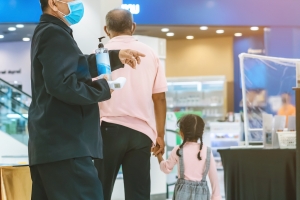 With over a year into the pandemic, countries across the globe have gone through a serious change with regard to lifestyles. The good news is, vaccines are now been gradually circulated. This opens up expectations of life getting back to normal soon. However, the reality is our war against the virus is far from getting over now. This means we should continue maintaining all safety measures as much as possible until we achieve a COVID free universe.
Let's take an example. After the lock down, shopping malls have reopened a long time back with several layers of security measures taken. We have all seen how visitors at a shopping mall are bound to sanitize their hands, get their body temperature checked, wear a mask before entering their shopping premises. And we are thankful that our security guards have done a commendable job to ensure all these safety measures are strictly followed.
Keeping the current scenario in mind, even after the vaccines are provided, it is very important to continue our take on safety like the way we have been doing in the recent past. Shopping malls should make sure that their security personnel are professionally trained and are dedicated towards their respective responsibilities. In fact, it is always advisable to hire top security guards from one of the best security service providers in California.
We, Access Patrol Service (APS) are considered as one of the top security guard companies in Glendale & La Canada Flintridge, CA that can cater absolute security service to any place or people. We have been in this industry for about 50 years and thus are quite able to serve high professional services. Our approach is invariably different from other companies as we are highly perceptive in nature about customer needs and preferences. Also, we are quite adaptable to new security techniques. Therefore, various methods and advanced technologies are used for rendering flawless service to places or people.
Consequently, our organization puts considerable amount of effort to chalk out a robust plan for absolute protection of shopping malls. Also, our security specialist first scrutinizes, analyze and understand the entire layout of the mall before allocating security guards to the place. This process helps in positioning our guards strategically which would cover the entire perimeter of the mall.
Now, vaccines are rolling out and the fact is it will take time to reach everyone. Therefore, our guards are still continuing to enforce all the safety measures on the visitors of the mall which includes sanitizing the customer, checking their body temperatures, and ensuring that they are wearing masks. Besides, our guards are assigned with regular task of checking and diffusing suspicious activities if observed inside the mall.
Another important feature of our organizations is we only employ BSIS certified guards and no uncertified guards are allowed in the organization.  Therefore, our security guards at shopping mall are highly professional, super-efficient and tactful to handle any critical situation that may cause security threats inside the mall.
Besides, for resilient service our security guards at shopping malls use technologies like CCTV cameras, GPS monitoring system, RFID tags ,biometric access control system, radio transmitters, metal detector, scanning machines, flashlights, cloud software, mobile devices, infra-red thermometer, automatic sanitizers etc.
Therefore, APS is one of the finest security guard companies in Glendale & La Canada Flintridge, CA which can provide absolute protection to malls. So, contact us ASAP and experience the best security service in town.
Contact Access Patrol Services at 866-770-0004 with questions about security guard duties, responsibilities and functions for commercial office properties in California and Arizona or click on https://accesspatrolservice.com