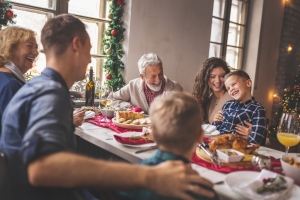 New Year and Christmas has always been the most awaited occasion for us. We look all look forward to this occasion to celebrate it with lots of fun and frolic. But, unfortunately the hard truth is during Christmas and New Year, crime rate spikes up massively. This is due to our reluctance or ignorance of not taking safety as the first priority, which can be perilous.  So, it is essential to get yourself properly protected with highly professional security guards before you gear up for the celebration.
We, Access patrol Service (APS) is one of the leading security guard companies in Hawthorne & Hermosa Beach, CA that caters absolute protection to the client by providing highly skilled and trained security guards. We have over 50 years of experience and hence, have high proficiency to render any of your security need. Moreover, all our security guards are BSIS certified and thus no uncertified guards are positioned to the client site. Besides, we conduct regular training session, so that both our armed and unarmed security guards remain efficient and physically fit for rendering highly professional security service.
In addition to it, our guards are strictly instructed to remain more cautious during times of festival, as crime occurrences multiplies to a great extent during those periods. Moreover, our guards are well equipped with advanced technologies for catering seamless service. For instance – RFID tags, CCTV cameras, GPS monitoring system, biometric access control system, radio transmitters, metal detector, scanning machines, flashlights, cloud software, mobile devices, infra-red thermometer, automatic sanitizers are some of the latest appliances which are extensively used by both our armed and unarmed security guards for ensuring full safety.
Furthermore, since we don't compromise on the safety of our client therefore, round the clock service facility along with foot patrol and vehicle patrol service is offered to them for extra protection. These facilities help them to seek our security service at any time of the day or during any emergency. Besides, vehicle patrol service supports in monitoring the assigned site in a detailed manner. Consequently, helps the guards to diffuse suspicious activities which may pose threat to the client.
Moreover, as we are highly customer centric organization, we also provide personalized facility to our client. This feature of our organization helps the customer to choose security specifications according to their needs and wants. Even, we provide full liberty to our client to cancel the contract at any point of time if not satisfied with our service. However, that is hardly going to happen as we ensure total customer satisfaction.
Therefore, APS is one of the finest security guard companies in Hawthorne & Hermosa Beach, CA, which can assure you complete protection at all times. So, get the quotation immediately before the year ends.
Contact Access Patrol Services at 866-770-0004 with questions about security guard duties, responsibilities and functions for commercial office properties in California and Arizona or click on https://accesspatrolservice.com