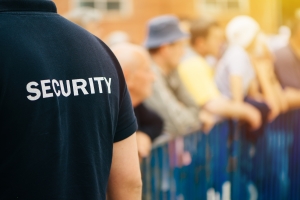 To make an event successful a lot of aspect needs to be taken care. And, one of the primary aspects is proper security service. If security service is not righteous or professional then the event can be ineffectual. This is because poor security arrangement can lead to higher chances of chaos, confusion and brawls. Thus, if you are someone planning to organize an event in the near future, then get professional security service from Access Patrol Service (APS) to make your event successful.
We, APS are a leading security guard company in Chino & Chino Hills, CA that caters absolute security service to large as well as to small events. We provide extremely skilled security guards who are particularly trained for providing security service to events. Besides, all our event security guards are BSIS certified and so they exactly know how to cater premium quality security service to events. Before catering security facilities to any event, APS adhere to the following things:
Finding out what kind of risk you are negotiating throughout the event is the first step. APS takes into account the following:
Who is your event's host? Are they the target of any gangs or criminals?
Who will attend your event, exactly?
What is the situation's context? Does the subject matter of your event lend itself to security issues?
Do you anticipate any protests, counter protests, or media coverage?
If the results indicate a high-risk factor, APS will implement strict security.
·         Keep the Security Measures Visible
In an event, keeping the security personnel covert and hidden causes more harm than good. Perpetrators can initiate violence/ disturbance if they believe the event is unprotected. Attendees will feel safer if your security personnel and equipment are clearly visible. They are aware that your security staff and equipment are there to ensure their safety. It will be obvious to guests where to go for assistance in the event of an emergency. Also, when security personnel are present, criminals often lower their activity and perhaps flee the area out of fear of being caught.
Establish security measures
Establishing checkpoints is one of the best ways to shield individuals from security risks. Everyone entering the event must pass through in order to enter.  This can compel felons or crooks to confront security personnel as a result, stopping them from doing any harm.
Create a plan for emergencies.
APS's event security guards make an emergency plan before the event. The emergency plan's goal is to establish a method for the attendees in case of an emergency. Various means to leave the area are included in this emergency plan.
What to do if a shooter is in the act?
Details about the safe spaces or rooms.
Information on the meeting place for staff in case of emergency.
The fact is, since our organization has been in this industry for more than 25 years, we have a mammoth amount of experience to meet exact security requirement of any place.  We are now considered as the best security guard company in Chino & Chino Hills, CA. Besides, our organization understands that in an event it can get hard to manage ill behaved crowds, intruders and even the guests. And so, all our guards are incredible crowd controllers
We acknowledge that every place, people and event is unique and so the security requirement is bound to be different. Hence, before catering security service to any place; our security specialist first analyzes the area and calculates the risk percentage. Thereafter, they make a comprehensive security plan covering all the security needs of the client. And only then, security guards are dispatched to the location to provide accurate security service. Therefore, we can firmly say that our security service is close to perfection.
Also, we ensure that the event has an appropriate mix of armed, unarmed, static and mobile guards in the location for complete protection. Moreover, our guards have high intellect to identify impending danger and thus can act quickly to deter crimes from occurring.
Besides, our guards continuously patrol the assigned area to diffuse suspicious activities which may pose threat to the event. In addition to this, our event security guards use advanced technologies to provide seamless security service. For instance – RFID tags, CCTV cameras, GPS monitoring system, radio transmitters, metal detector, scanning machines, flash lights, infra-red thermometer, automatic sanitizers and many other appliances are used by our guards for making an event successful.
Therefore, if you are searching for robust security guard company in Chino & Chino Hills, CA which can provide unparallel security service to your upcoming event, then do contact us for the same. 100 % professional event security guards  will be delivered to you at a reasonable rate.
Contact Access Patrol Services at 866-770-0004 with questions about security guard duties, responsibilities and functions for commercial office properties in California and Arizona or click on https://accesspatrolservice.com