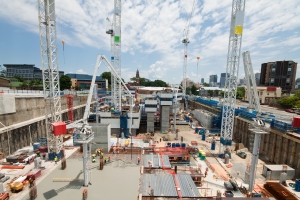 Construction sites are perceived as one of the most hazardous paces that need strict security surveillance. This is because workers at construction sites are prone to injuries as they are indulged in working with heights, dust, power tools and equipment. Therefore, employing professional security guards for monitoring construction sites becomes utmost necessary to ensure safety of the workers. Also, construction sites are prone to theft, robberies and vandalisms as various expensive construction material and equipment are kept openly on the sites. So, considering professional security intervention on construction areas are must.
We, Access Patrol Service (APS) are a renowned security guard company in Fontana & Bloomington, CA that provides efficient and skilled security guards who are capable of providing absolute security service to any area including construction sites. Our organization has over 50 years of experience in the security service domain. And, owing to this experience we have high capability to cater accurate security service or to ensure total protection to our client's location. Honestly, we don't compromise on the service quality. Hence, all our guards are BSIS certified and no uncertified guards are allowed or employed in APS.
The fact is, while catering services specifically to construction sites, our security specialist first visit the location to scrutinize and analyze to chalk out the accurate security plan. After this, sufficient numbers of construction site security guards in Fontana & Bloomington, CA are allocated to the site ensuring that the entire perimeter of the construction area is covered under our security surveillance purview. We also ensure that right mix of armed and unarmed guards is placed strategically on the location.
Moreover, our guards provide round the clock service facility along with foot patrol and vehicle patrol service to ensure that no suspicious activities are piled up on the site which may pose threat to the property.
In addition to that, our organization is highly tech driven firm so numerous latest or advanced technologies are used by our construction site security guards for seamless service delivery. Technologies such as RFID tags, CCTV cameras, GPS monitoring system, biometric access control system, radio transmitters, metal detector, scanning machines, flashlights, cloud software, mobile devices, infra-red thermometer, automatic sanitizers etc., are extensively used on the construction site to keep a close check on the area.
Therefore, if you are searching for a highly professional security guard company in in Fontana & Bloomington, CA, then do contact APS for the same. We also provide customized service facility so that our client can choose or add security specification according to their need or suitability.
Contact Access Patrol Services at 866-770-0004 with questions about security guard duties, responsibilities and functions for commercial office properties in California and Arizona or click on https://accesspatrolservice.com