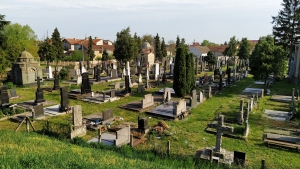 We have this major misconception that cemeteries have nothing much to protect. But, the truth is many valuable items like headstones, memorials; lights etc are present in cemeteries which are lucrative things for convicts. In fact, these days' crimes in cemeteries are rapidly growing as convicts are targeting mainly graveyards to commit heinous crimes like murders, extortions, thefts and vandalisms.
So, to deter frequent crime occurrences in these places, it is essential to hire professional security guards to safeguard the sacred place from vandalism or any other threats. We , Access patrol service (APS) are one of the finest security guard company in Lake Isabella & Searles Valley, CA that provides absolute protection to large as well as small areas including cemeteries. We recognize that cemetery security guards are not only required to provide protection to the place but are also necessary to assist general public to follow the cemetery guidelines. Therefore, our guards are responsible for keeping the cemetery area safe and secure by enforcing the guidelines to the visitors.
Besides, we train our cemetery security guards substantially so that they are capable of handling or meeting additional security need, which is required during any funeral.  In addition to this, our guards provide 24 hour service facility along with foot patrol and vehicle patrol service for extra layer of protection.  Therefore, our guards are extremely active and robust protectors. Even, they have the ability to identify looming danger quickly and thus can act immediately to deter crimes from occurring.
The fact is, since we have been in the market for over 25 years now, we have developed high proficiency to cater premium quality service to any place or people. Honestly, we do have the ability to identify the critical security requirement of any place, so our service is close to perfection. Therefore, when it comes to high quality security service delivery, our organization tops the chart.
Moreover, we are also highly tech driven firm and so many advanced technologies are utilized to provide seamless security service. For instance – RFID tags, CCTV cameras, GPS monitoring system, radio transmitters, flashlights, cloud software, mobile devices and other latest gadgets are used for total protection of assigned site.
Therefore, if you are looking for reliable security guard company in Lake Isabella & Searles Valley, CA for complete protection of cemeteries, then do get in touch with us. We also provide customization facility so that client can choose security specifications as per their needs and preferences.
Contact Access Patrol Services at 866-770-0004 with questions about security guard duties, responsibilities and functions for commercial office properties in California and Arizona or click on https://accesspatrolservice.com