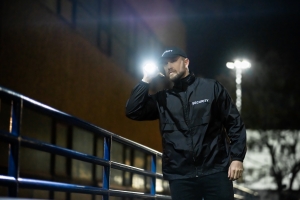 Constant panic, fear and anxiety can tremendously affect our daily life activities. This can happen if you don't feel secure and safe at your home or office. Therefore, if you want to have total safety then hiring professional security guards at your place is one of the best solutions you can avail.
We, Access Patrol Service (APS) are a highly professional security guard company in North Tustin & Orange, CA that offers total protection to clients from uncertain dangers or threats. Our organization highly values customer's needs and preferences. We ensure to provide complete peace of mind to our customer by render complete protection. Besides, due to our experience of around 25 years in this field, we are highly perceptive in nature about various critical security needs of our customer. And thus, we hold high proficiency to meet all their needs.
Besides, our organization only employs BSIS certified security guards. So no uncertified or unskilled guards are provided to the client. In addition to that, our guards are regularly trained so that the service quality of the guards stays up to the mark. Besides, various knowledge regarding acute security aspects are also imparted to all our armed and unarmed security guards. Therefore, all our guards are highly efficient and robust to deal with any critical situation.
Even, our guards possess immense capability to sense impending danger immediately. Hence, they are also quick decision maker and taker. The most important factor of our organization is, before allocating security guards to the client site, our security specialist first visits the place to calculate the risk percentage and to analyses the exact requirement of the client or place. Thereafter, sufficient numbers of security guards are allocated to the site for absolute protection.
Besides, 24 our security service facility is also provided to the client for any immediate security need. In addition to that, foot patrol and vehicle patrol service is also offered for extra layer of protection. Another important aspect of our organization is we extensively use technology to cater flawless security service to client. For instance – RFID tags, CCTV cameras, GPS monitoring system, radio transmitters, metal detector, scanning machines, flashlights, cloud software, mobile devices, automatic sanitizer and infra-red thermometer and many other latest appliances are used by our armed and unarmed security guards for providing absolute protection.
Lastly, we also provide customized service facility so that our customer can formulate security plan or add security specification as per their suitability. Therefore, if you are searching for a robust security guard company in North Tustin & Orange, CA, for total protection, then so contact APS for the same.
Contact Access Patrol Services at 866-770-0004 with questions about security guard duties, responsibilities and functions for commercial office properties in California and Arizona or click on https://accesspatrolservice.com