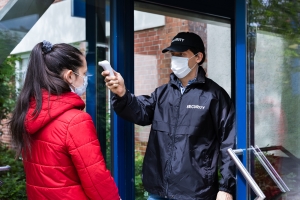 After the corona virus outbreak, security guards contributed majorly in securing and establishing virus free environment in hospitals, banks, clinics, government offices and in various places. The role of security guards were redefined and now again when the COVID- 19 vaccine is out, their role is widening with each passing day. However, according to news there is a very limited supply of COVID -19 vaccines which will be widely available after few weeks or months. So, government is highly relying on security guards for safer and wider distribution of COVID -19 vaccines to hospitals, retail pharmacies, clinics and federally qualified health centers.
However, it is essential for government authorities to verify the authenticity of the security service provider before trusting on them. And only after conducting thorough due diligence of the provider, the officials should employ the security guard company for proper and safer distribution of vaccines to qualified centers.
Speaking of professional security guard company in Westlake Village & Thousand Oaks, CA,Access Patrol Service (APS) is known to be one of the finest security service providers throughout California. We have been one of the major contributors for providing total safety to various places during the COVID -19 outbreaks. This has been possible as only trained and BSIS certified security guards were deployed to the client places. Our organization has been in the security service field for more than 25 years and hence understands various critical aspects of security emergency. Thus, we have the right capability to render highly professional service to people or places.
Also, our security guards are given rigorous training regarding the safer distribution of COVID -19 vaccines to hospitals, pharmacies and clinics. Even, they are substantially trained to protect the health centers while the distribution process of COVID -19 vaccines will be initiated. The known fact is once the vaccines will be available in the pharmacies or qualified health centers, accumulation of masses will occur in huge numbers to these places. Hence, to protect these centers and to ensure total safety of the place, our security guards will be patrolling the entire area with full vigilance. Also, both our armed and unarmed security guards will be responsible for enforcing all the rules and regulation to the visitors or customers.
Moreover, we would ensure that sufficient number of armed and unarmed security guards is present on the vaccine centers for handling critical situation. Moreover, our organization highly utilizes technology such as CCTV, GPS monitoring system, automatic sanitizer, infrared thermometer, metal detector and many more for rendering flawless security service.
Therefore, if you are searching for a highly reliable security guard company in Westlake Village & Thousand Oaks, for safer distribution of COVID -19 vaccines, do get in touch with out immediately.
Contact Access Patrol Services at 866-770-0004 with questions about security guard duties, responsibilities and functions for commercial office properties in California and Arizona or click on https://accesspatrolservice.com