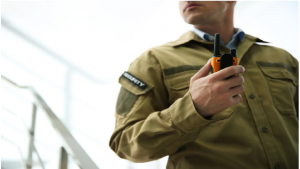 In today's world, getting security protection is obligatory. This is especially true for large corporations and high-value facilities. These types of businesses need to invest in security systems that can protect their property and employees from a variety of hazards.  It is also vital to pick the right and reliable security service provider to get genuine and professional security service.
Speaking of a reliable security guard company in Yermo & Barstow, CA, APS is the most renowned name in the security market owing to its resilience, professionalism and accurate security service delivery.  For over 26 years, the company has been rendering security services to organizations, residences and events. The company provides high-quality security solutions by entailing advanced techniques, technologies and skilled guards. With our expensive experience in this field, we have the knowledge and expertise to implement the best effective methods and procedures to secure clients' premises tightly.
We, APS build tailor-made security plans aligning to the needs and preferences of the client.  The security plans are structured based on the risk assessment associated with the client premise. Thereafter, the guards are placed cautiously to monitor the client's premises 24/7.  Besides, to enhance the effectiveness of our security guards, training is provided to them on a frequent basis.   Our training sessions familiarize the guards with advanced techniques and methodologies to meet the taxing security needs of today's time.  Crowd control management, power drills, rapid decision-making programs, intellectual development programs etc are some of the mandatory training sessions to keep the guards' flexibility and power intact. Also, our training strives to improve the morale of our guards so that they take pride in their service resulting in a higher efficiency level in their profession.
Also, to deliver services seamlessly sophisticated technologies are used by our guards. Some of the latest appliances our guards use are radio transmitters, GPS monitoring systems, flashlights, mobile devices, CCTV cameras, cloud software and many more.
Besides, as we thrive to be on the top, we value customer satisfaction. For this reason, we provide personalization facilities to our clients so that they can pick security features as per their needs and preferences.
Therefore, if you are someone searching for the most reliable security guard company in Yermo & Barstow, CA for high-quality security service, then get in touch with APS immediately.
Contact Access Patrol Services at 866-770-0004 with questions about security guard duties, responsibilities and functions for commercial office properties in California and Arizona or click on https://accesspatrolservice.com