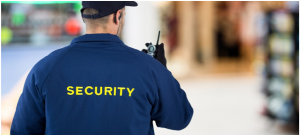 Irrefutably, Shopping mall provides the best shopping experience! And so, on a daily basis, a huge number of crowds flock to these premises. Additionally, since shopping centres have movie theatres, restaurants and cafes, it is also visited for hangout or dining purposes. Besides, many items remain on display inside a shopping mall. So, to protect the properties of shopping malls and maintain safety and security inside these premises, it is crucial to have top-quality security service stationed at these premises.
So, if you are seeking the highest standard of security facility for shopping malls then look no further.
We, Access Patrol Services (APS) are one of the most renowned security companies in Eastvale & Jurupa Valley, CA that offer absolute security solutions to shopping centres. We have a dedicated team of shopping mall security guards who are not only BSIS certified but also meticulously trained.  We arrange mandatory training sessions for our guards to enhance their flexibility and efficiency.  Some of the mandatory training sessions are threat detection and prevention programs, power drills, first responder awareness programs, crowd control management, rapid decision-making skills, intellectual development skills and many more. Besides, these guards are also trained to detect impending danger and how to proficiently defuse the same to avert chaotic situations or crimes inside the mall.
We place the guards quite strategically and ensure that every corner of the shopping mall falls under the security vigilance of APS.  Plus, a separate security model is formulated after understanding the layout of the assigned shopping malls. Needless to mention, we discuss our security strategies and model with the mall authorities and ensure that the security plan is aligned with their needs and preferences.
Besides, many advanced gadgets are provided to the shopping mall security guards such as CCTV cameras, GPS monitoring systems, radio transmitters, metal detectors, scanning machines, infrared thermometers, automatic sanitizers and many more for protecting the mall premise from all sorts of dangers or threats.
The fact is APS has been catering to many several large commercial properties and shopping malls for more than 26 years. And owing to such gigantic experience in the security field, APS has the ability to provide accurate security solutions to any size of shopping centre. The guards are extensively trained to manage huge crowd accumulation and are efficient at making apt decisions in times of need.
Therefore, if you are searching for the most renowned security companies in Eastvale & Jurupa Valley, CA for shopping mall security, then get in touch with APS ASAP. 100 % professional security service is guaranteed.
Contact Access Patrol Services at 866-770-0004 with questions about security guard duties, responsibilities and functions for commercial office properties in California and Arizona or click on https://accesspatrolservice.com