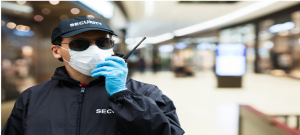 Theft is one of the most common risks in Shopping malls.  Several valuable items are kept on displays which are major attractions for thieves. Also, shopping malls attract children and youngsters which can increase the risk of vandalism. Hence, strict monitoring and security vigilance is necessary. And for this reason, hiring intelligent and quick security responders from Access Patrol Services (APS) is quintessential.
APS is the most preferred security guard company in Montclair & Ontario, CA for shopping mall security.  Since shopping malls mostly stay jam-packed, convicts can easily blend into the crowd after committing a crime. Hence, APS's guards are trained uniquely to identify threats and respond quickly. The guards of APS are positioned in the most strategic manner so that the entire perimeter of the mall premise gets covered under the security surveillance of APS guards.  These guards are trained to take immediate action as soon as they spot any type of threats inside the mall premises. Also, they carefully verify the purses or bags of each and every visitor before letting them enter the mall premise.  Besides, the guards strictly enforce the mall guidelines to all visitors to ensure the total safety of the premise.
The fact is APS has been protecting several shopping centres for more than 26 years. And owing to such experience, APS has the expertise to meet the security needs of all-sized security malls. APS understands the importance of training so numerous training sessions are arranged for the guards such as power drills, first responder awareness programs, intellect development programs, rapid decision-making programs and many more.  Besides the guards are provided with many advanced technologies such as CCTV cameras, GPS monitoring systems, Infrared thermometers, scanning machines, Metal detectors, radio transmitters are many more.  Therefore, APS guards are both highly skilled and well equipped to deliver professional shopping mall security services.
Moreover, APS offered a fully tailored security service facility to the mall authorities so that they can incorporate security features as per their needs and preferences.  Round the clock service facilities are also provided by APS for superior security protection.
So, if you are searching for a highly professional or most preferred security guard company in Montclair & Ontario, CA then get in touch with us ASAP. 100% guaranteed professional shopping mall security services will be delivered.
Contact Access Patrol Services at 866-770-0004 with questions about security guard duties, responsibilities and functions for commercial office properties in California and Arizona or click on https://accesspatrolservice.com