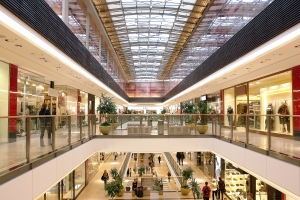 Provide the finest quality security protection to shopping centres by hiring a top security provider in Maywood & Bell, CA
You'll surely agree that shopping malls are not just merely a place to shop but also perceived as a hangout spot for all age groups.  From food courts, restaurants, game zones to multiplexes all are available in shopping centers which make this place a thriving place to chill out. And, since these malls are accessible to everyone, it becomes quite easy for thieves and convicts to target these places for carrying out crimes. Therefore, shopping mall security has to be of top quality.
Access Patrol Services (APS) has been recognized as the top security provider in Maywood & Bell, CA for delivering immaculate shopping centre security.  Numerous shopping malls in California trust APS simply because of its accurate and integrated security solution based on the assigned premises. APS understand that all shopping centers have unique security requirements and exclusive security plan is needed for each of the shopping centers. Hence, APS does not rely on any pre-determined security plan and formulates a security model only after scrutinizing and analyzing the assigned shopping mall.
The fact is the company holds a colossal experience of more than 25 years in the security service domain. And owning to such rich experience, it possesses the expertise to address all the critical security needs of any type of shopping mall.  Moreover, as APS is extremely dedicated to rendering high-quality security services, only BSIS certified security guards are selected to render professional security services to its client. Plus, the guards are provided extensive training at frequent intervals to upgrade their existing skills. For instance – power training, crowd control management, intellectual enhancement programs, rapid decision-making programs etc., are mandatorily included in the training programs of APS. Therefore, the guards of APS are extremely professional, robust and vigilant protectors. They also possess the capability to identify approaching danger and hence they are quick decision-makers as well.
Besides, APS provides an assortment of mobile, static, armed and unarmed security guards to assigned shopping mall premises.  Each and every corner of the shopping malls is covered thoroughly by the APS's security guards for detailed security surveillance. All the entry and exit points including the critical areas such as electric rooms are tightly protected by the security guards. Besides, every visitor's purses, baggage are checked minutely before they enter the mall premise to ensure the premise is free from suspicious activities. So, for shopping mall security, relying on APS means guaranteed security protection.
Above and beyond, APS has a deep inclination towards adopting the most advanced technologies for the deliverance of the highest quality security service. Therefore, apart from robust skilled guards, state-of-the-art technologies or advanced gadgets such as CCTV cameras, GPS monitoring systems, radio transmitters, scanning machines, metal detectors, cloud software, infrared thermometers, automatic sanitizers etc., are used by the guards of APS for absolute security protection of shopping malls.
Moreover, customized security option is also provided to the authority of the shopping malls to ensure they can address, formulate and pick security specifications as per their needs and preferences.
Therefore, if you are searching for a top security provider in Maywood & Bell, CA for shopping mall security, then picking APS would be the safest option for guaranteed high-quality security service delivery.
Contact Access Patrol Services at 866-770-0004 with questions about security guard duties, responsibilities and functions for commercial office properties in California and Arizona or click on https://accesspatrolservice.com