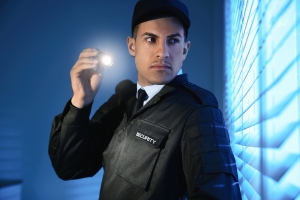 Dealing with uncertain danger is not easy and living in panic is surely not the solution! Therefore, in this crime-surging world, the only way to stay safe is by securing our surrounding with robust protection. However, to avail robust protection, it is essential that one should rely only on companies which are renowned and have considerable amount of goodwill in the market, as those companies can assure high quality service. In this context, one name that surely pops up in the mind is Access Patrol Services (APS).
APS is a renowned security guard company in Downey & Paramount, CA because of the following reasons:
Workers received training
Nothing is more important than ensuring that the security guards are adequately trained when comparing security guard firms. You should pay particular attention to the continuous training. Threats to persons and property are constantly changing. You must ensure that the security firm you select can offer workers the most recent training and expertise.
A professional security firm will place a high focus on this.  A professional security company should  make sure that all their security personnel has received training on how to adhere to provincial and municipal norms.  They must offer continual training and thoroughly assess the abilities of their staff.
Licenses and certificates
Most importantly make sure the security firm you choose to hire possesses the necessary qualifications and licenses. You might need security guards with training as by-law enforcement and municipal enforcement officers, depending on the amount of protection you demand.
 Experience
Make sure the company has substantial experience in the security domain to ensure absolute protection.  Also, make sure the company has good track record in the past.
Inquire about the tools the company employ and how frequently they upgrade them.
It is important to inquire about the technologies and tools the company uses for providing security facilities to its clients.  Know the types of technologies you can be sure of the services you will be getting. A company that continuously adapts to new and advanced technologies is highly reliable and trustworthy.
So, if you are seeking a reliable company that covers all the aforesaid mentioned points, then look no further.
Access Patrol Services (APS) is a highly renowned security guard company in Downey & Paramount, CA which has been catering to numerous large and small scale industries for more than five decades. It is an organization that is purely driven by customer satisfaction, thus all deployed guards are BSIS certified and skilled for rendering efficient services to the client. Therefore, no uncertified guards are employed in the APS organization.
Moreover, APS truly believes that to provide errorless service and to remain competent, it is vital to adapt evolving methods and technologies. Therefore, many tech oriented gadgets are used by the both APS's armed and unarmed security guards such as RFID tags, CCTV cameras, GPS monitoring system, biometric access control system, radio transmitters, metal detector, scanning machines, flashlights, cloud software, mobile devices, infra-red thermometer, automatic sanitizers and many more to provide premium service.
Additionally, APS conducts intensive training session on a frequent basis for all the guards to ensure that the flexibility, ductility and robustness remain consistent and are also enhanced with each session for superior service delivery. Besides, guards are also trained to build high intellect skills. Therefore, both armed and unarmed security guards of APS are highly reliable security personnel who can act prudently during dire times.
Also, for extra protection or assistance, 24 hour service facility is offered by the APS guards to all clients. Therefore, one can avail urgent security need at any point of time. Round the clock vehicle patrol and foot patrol service is furthermore provided by both armed and unarmed security guards for quicker execution of security service.
Moreover, the organization also provides full customized security option to all clients. Thus, APS is an organization that supports its client to a great extent to meet the accurate security needs for optimum satisfaction. Every customer is given full liberty to choose any security specification according to their requirement, no restriction is imposed. Even the client can seek expert opinion from the APS security specialist for better protection.
Therefore, if you are searching for a customer centric and reliable security guard company in Downey & Paramount, CA which can provide robust protection, then contact us. We ensure all your security concerns will be addressed with utmost care. 100 % professional armed and unarmed security guards will be provided to you at a reasonable rate.
Contact Access Patrol Services at 866-770-0004 with questions about security guard duties, responsibilities and functions for commercial office properties in California and Arizona or click on https://accesspatrolservice.com