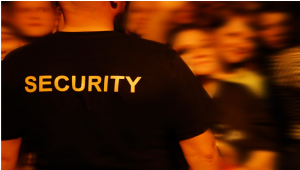 If you are a retailer, you surely understand the significance of the day Black Friday. Maybe you have planned the entire year on how to attract customers to boost your sales.  But, everything can go in vain, if you have not planned to secure your store properly with tight security service.  The harsh fact is, the day is also eagerly awaited by scammers and manipulators. Fraudulent take undue advantage of this annual shopping frenzy day.  So, on this Black Friday, if you want to beef up security services for your store then look no further.
Access Patrol Services (APS) is the finest security guard company in Montecito & Santa Barbara, CA that has over 26 years of experience in rendering professional security solutions to retail stores. APS is acquainted with the difficulties encountered by retail owners during this time of the year. And thus, preps up its security team accordingly.  The security guards deployed by APS for Black Friday are specially trained. These guards are provided training on crowd control management, power drills, rapid decision-making programs, threat detection and prevention programs and many more. Therefore, the Black Friday security guards of APS are highly skilled and efficient to protect your store from all kinds of threats.  The guards of APS stay on their toes throughout the day to prevent shoplifting, thefts and vandalism. They help to maintain a peaceful ambience inside the store.  Most importantly, APS understands that all stores have a unique layout and so the security specialist of APS formulates an exclusive security plan for each of the assigned store.  The plan is crafted only after visiting the store beforehand to understand the layout and critical areas that require special security attention. And thereafter, deploys or positions the security guards to the store to provide absolute protection.
Besides, Black Friday security guards of APS are offered state-of-the-art equipment such as CCTV cameras, GPS monitoring systems, scanning machines, RFID tags, infrared thermometers, alarms, radio transmitters, automatic, sanitisers, etc., to ensure top-quality security protection
Apart from this, APS offers tailor-made security facilities to retail owners so that they can choose security specifications as per their needs and preferences.  Also, round the clock security service facility is also provided by APS to meet the urgent security requirements of its clients.
Therefore, if you are searching for a highly professional or finest security guard company in Montecito & Santa Barbara, CA for security protection on Black Friday then gets in touch with APS ASAP.
Contact Access Patrol Services at 866-770-0004 with questions about security guard duties, responsibilities and functions for commercial office properties in California and Arizona or click on https://accesspatrolservice.com