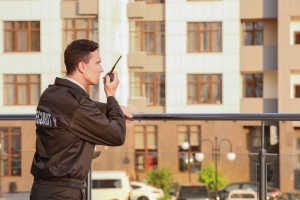 Preserving our peace of mind in this era has become enormously difficult.  Sadly, not even a day passes by without encountering or hearing crimes related news. Thefts, murders, robberies are transpiring everywhere and every moment. Therefore, in this taxing situation, the best way to feel secure is by hiring professional security protection from a trustworthy security company like Access Patrol Services (APS).
APS is one of the top security service providers in Covina & La Verne, CA on which you can rely for your complete safety and security.  APS is a well-positioned security company that recognizes every security need of clients and thus delivers security services aligning to their needs. It offers complete customization security service facilities to its client. Also, the company deploys only BSIS certified security guards to the client site as only licensed guards are employed in APS.
Apart from this, the guards of APS are given training on a scheduled basis. The training sessions include power drills, crowd control management, rapid decision-making problem, intellectual enhancement programs and many more. Therefore, the guards of APS are highly efficient to provide absolutely professional security service to clients. They also possess the ability to detect impending threats and thus can deal with serious situations with utmost proficiency.
The reason client greatly relies on is simply because of its accurate security service delivery and also because of its extensive experience of more than 25 years in the security industry. Apart from this, APS understands that in this evolving era, it is essential to keep upgrading their techniques, methodologies and technologies to deliver flawless service. Therefore, APS constantly thrives to change the strategies and hence use many latest gadgets while delivering security services to clients. For instance – GPS monitoring systems, radio transmitters, CCTV cameras, RFID tags, biometrics, cloud software, mobile devices, alarm systems, flashlights, metal detectors, scanning machines, automatic sanitizers, infrared thermometers, etc., are some of the appliances that are extensively used APS's guards to deliver faultless services to the client.
The best part of APS is before catering to security services to client's premises, the company sends its security specialist to scrutinize the layout of the assigned premise, calculate the percentage of the risk associated with the property, mark the critical points and then formulates a robust security model to ensure deliverance of highly professional security service facilities.
Therefore, if you are searching for one of the top security service providers in Covina & La Verne, CA for BSIS certified security guards in Covina & La Verne, CA and highly professional security service then get in touch with APS for the same.
Contact Access Patrol Services at 866-770-0004 with questions about security guard duties, responsibilities and functions for commercial office properties in California and Arizona or click on https://accesspatrolservice.com