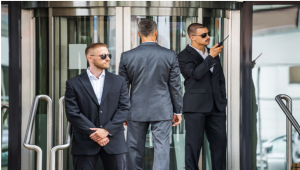 As a business owner, you want to ensure the constant safety and security of clients and employees. You may have employees and customers who commute to work/ visit your facility on their bikes or cars. You want people to feel relaxed when leaving their vehicles or motorcycles in the parking lot.
"Security in the parking lot is crucial. Therefore your business may take certain security measures to ensure it is safe,"- say BSIS security guards from Access Patrol Services.
If you are a business owner, here are some tips to increase parking lot security from security guards in Diamond Bar
Enhance the lighting
The parking lot needs to have adequate lighting to be safe. To light up the entire space, you have to figure out if the parking lot requires floodlights or overhead pole lights. Any shady areas must be lit so the surveillance devices can easily capture movement. Install motion sensor lighting to make your customers have a pleasant experience and reduce your energy costs.
Security guards
If your business has BSIS security guards on the premises, you may ask them to escort your customers/staff to their vehicle, especially if it is late in the evening. In addition, you can inform the employees that security officers can accompany anyone who feels anxious walking to their car unattended. This security escort may be offered depending on the number of guards available.
Surveillance system
Installing a 24-hour surveillance network can be advantageous for a firm with a smaller budget. When staff are on site, the parking lot security cameras can be inspected, and off-site security may manage the system after hours. Harassment and minor offences can be avoided with video surveillance. If a crime is committed, it also provides you with evidence, and you can enlist the assistance of the police to arrest the culprits.
Electronic Security Guards
If there aren't enough security officers at the business to physically walk customers to their vehicles, they may execute it remotely. The security guards can watch the person drive away from the premises by keeping an eye on them on the video camera. The guards can offer rapid assistance if they spot something unusual. Until they get to their automobile, they can also speak with staff/customers on the phone.
Are you looking for security guards in Diamond Bar? You can analyse the lighting issue and get assistance from a qualified security consultant. Consult with us, and we'll determine your company's security requirements.
Contact Access Patrol Services at 866-770-0004. For more details, click on https://accesspatrolservice.com.