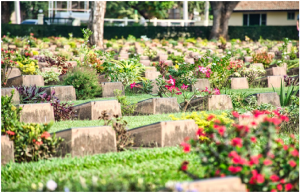 Cemeteries are scarcely populated areas. But since most of the time these places remain deserted, convicts take the undue opportunity of these premises. Often headstones, gravestones, lightings, glowers, are stolen from cemeteries. Besides, other criminal occurrences such as murders, extortions have also become frequent in these premises due to poor security service facilities. Hence, to protect cemeteries, professional security service is mandatory.
Access Patrol Services (APS) is a prominent security guard company in Canoga Park & Chatsworth, CA that provides professional security protection to all sorts of large and small premises including cemeteries.  APS has trained and sensible security guards who are all BSIS certified and are adept in catering services to sensitive places like cemeteries.  The fact is APS has been in the security field for over 26 years and is adept at providing flawless security service to all types of premises.
APS recognize that cemeteries require special kind of security services to not only protect the premise but also to maintain the decorum of the premise. And for this reason, APS has a specialized team of trained cemetery security guards who are efficient at detecting and deterring crimes occurrences in the cemetery premise.  The training session includes rapid decision-making programs, power drills, intellectual development programs, etc. Therefore, cemetery authorities can completely rely on the security services of APS for absolutely shielding the premise from all sorts of dangers.
The guards perform frequent patrolling to eliminate piling up of suspicious activities. However, if they notice any fishy activities, they are robust to take proper action to prevent the crimes from occurring. Besides, to prevent vandalism, they keep a thorough vigilance on every visitor.
The most important aspect is, to provide absolute protection a solid security plan is structured by the APS's security specialist. The security model is formulated only after visiting the assigned cemetery, understanding the entire layout and calculating the risk percentage associated with the premise. Once the analysis is completed, a proper mix of armed, static, unarmed, mobile cemetery security guards in Canoga Park & Chatsworth, CA is positioned to the cemetery for complete protection.
Also, APS's cemetery guards use many advanced security gadgets for providing absolute security cover.   For instance – radio transmitters, flashlights, CCTV cameras, GPS surveillance systems are used broadly by the APS guards for flawless cemetery security service.
Therefore, if you are searching for a resilient security guard company in Canoga Park & Chatsworth, CA then, do get in touch with APS.
Contact Access Patrol Services at 866-770-0004 with questions about security guard duties, responsibilities and functions for commercial office properties in California and Arizona or click on https://accesspatrolservice.com