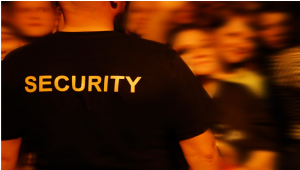 Christmas is just a month away!  And it is the best time for retailers to boost their sales. People usually get engrossed in joy and happiness during this time of the year. And they love shopping for Christmas. So, along with developing marketing strategies to attract customers to your store, it is also imperative to get professional security protection during this time of the year. The harsh fact is in the month of December, crime rate surges tremendously. And therefore, it is recommendable that retailers escalate security service a little bit more to stay protected.
The presence of professional security guards at your store will help to deter crimes extensively.  The security guards who are trained meticulously and BSIS certified have the ability to detect threats beforehand and thus can prevent crimes from occurring. They will keep a vigilant eye on all the activities inside your store to prevent thefts, shoplifting, and robberies. Therefore, having professional security guards stationed at your store is mandatory.  So, if you planning to get some more security guards for Christmas for your store, then get them from a trustworthy security guard company in Lakewood & Long Beach, CA.
For over, 26 years, Access Patrol Services (APS) has been the number one professional security guard company in Lakewood & Long Beach, CA due to its accurate security solutions to clients. APS   crafts a security model based on the client's premise and their needs and preferences.   Before catering to security service to any store, the specialists of APS analyze the premise thoroughly, mark all the critical points, calculate the percentage of the risk and then formulate a solid security plan. Besides, all types of armed, unarmed, static and mobile guards are also deployed to the client tore for absolute protection.
The most important aspect is, APS being a quality-oriented Security Company hires only BSIS-certified security professionals. Besides, frequent training is arranged for the guards to boost their skills. Some of the training session consists of rapid decision-making programs, intellect development programs, power drills, crowd control management and many more.
Besides, APS guards use many state-of-the-art equipments such as CCTV cameras, GPS monitoring systems, infrared thermometers, alarms, radio transmitters, scanning machines, RFID tags, automatic, sanitisers, etc., to ensure top-quality security protection
Therefore, if you are searching for a trustworthy security guard company in Lakewood & Long Beach, CA for getting security guards for Christmas then gets in touch with APS ASAP.
Contact Access Patrol Services at 866-770-0004 with questions about security guard duties, responsibilities and functions for commercial office properties in California and Arizona or click on https://accesspatrolservice.com