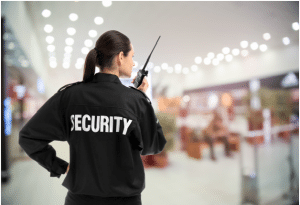 Each year, we all look forward to the holidays with great anticipation, especially around Christmas, when people celebrate to the utmost degree possible. One of the most visited locations during this season is shopping centers. People would be seen in huge groups flooding malls to shop and have fun with their loved ones. Crowd control is vital because of the high foot traffic that results from this special occasion.
Shopping center managers are in charge of ensuring that each visitor stays safe and has a good time with friends and family while on the premises. For this reason, it is necessary to have robust security measures in place to prevent chaos, theft, vandalism, and other mishaps. Having professionally trained security guards on duty is essential for managing the large crowds at shopping malls.
Access Patrol Services (APS) is a reputable security guard company in Santa Maria & Lompoc, California, with over 26 years of experience. The security guards that work for our organization are BSIS-certified and undergo continuous training so that they are prepared to handle any situation with the utmost care and intelligence.
In a highly competitive market, APS strives to maintain an advantage over its competitors. To provide perfect security services, we continuously update our offerings with state-of-the-art equipment and technology. The APS's shopping center security officers use a variety of tools, including RFID tags, CCTV cameras, GPS tracking systems, radio transmitters, metal detectors, scanning machines, infrared thermometers, automatic sanitizers, and other devices, to ensure complete protection.
Since shopping malls usually have a large footfall, our security guards are arranged in a way that covers the entire perimeter of the mall. The intelligent security management provided by APS's security experts ensures seamless security service delivery. This includes guards stationed at entry and exit gates and food court patrols. In order to meet all of the area's security needs during the Christmas season, especially when people are celebrating, APS guards are also extra vigilant and flexible. We provide comprehensive Christmas security service.
Furthermore, APS's shopping mall security guards are skilled in crowd control management due to their extensive training in this domain. Because of this, APS security personnel are prepared to appropriately handle large crowds. The guards also make sure that everyone who enters the mall follows the general guidelines.
Therefore, if you're searching for a reputable security guard company in Santa Maria & Lompoc, California, APS is your one-stop shop. So, contact us for Christmas security service.
Contact Access Patrol Services at 866-770-0004 with questions about security guard duties, responsibilities and functions for commercial office properties in California and Arizona or click on https://accesspatrolservice.com